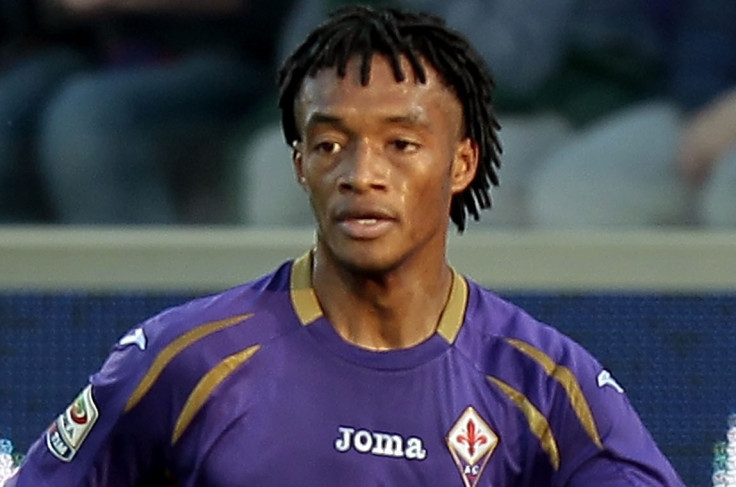 Chelsea will sign Colombia international Juan Cuadrado in the remaining days of the January transfer window, Fiorentina manager Vincenzo Montella has confirmed.
Cuadrado has been subject of intense speculation regarding a prospective €35m (£26m) move to Stamford Bridge but Montella says the deal will happen in the final 71 hours of the transfer window.
Out-of-favour winger Mohamed Salah will join Viola on loan until the end of the season after failing to make a single start in the Premier League this season for Chelsea, while Andre Schurrle is also on the brink of a departure.
"I want to be honest: it [the sale of Cuadrado] was something that had to be done," Montella said at a pre-match press conference ahead of the game against Genoa. "As a coach I'm sorry because technically he is such a good player but the club has made ​​the right decision.
"We get a great player in Salah although we will need some time to adapt to each other. Salah is not quite the same player as Cuadrado and can't play as a quinto, so we will need a 'vice-Joaquin'.
"Is is a distraction? We are used to it. It is not anyone's fault and we can't use Cuadrado's exit as an excuse for tomorrow's game. Could we have kept Cuadrado until the summer?
"Yes, possibly but he always gave everything for the club and he would have done again if he had played tomorrow. He is an ultimate professional and I am happy for him because he is joining a big club. We have to show that Cuadrado is not the only reason we are where we are."
Schurrle, who has made just five starts in the Premier League term, could become the second departure from Chelsea before the deadline after the player's agent reveals talks have begun over a move to Wolfsburg.
"[The deal] should go through on Friday," Ingo Haspel told Germany's SID agency. "There are still a few things to discuss, but we're no longer talking about figures [with Chelsea]."
Wolfsburg's director of sport, Klaus Allofs, said to ARD television: "The fact is, all of the required signatures are still lacking. No contract has been signed and I'm a bit old-fashioned and there are still some obstacles to get round. The ink is not yet dry."