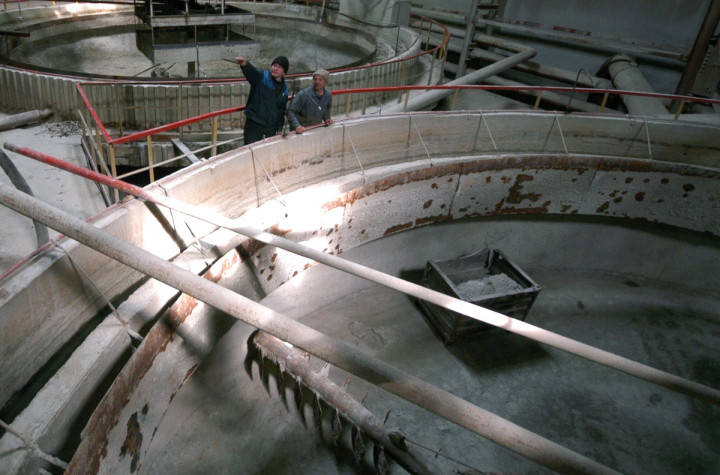 At 3,422°C, it has the highest melting point of any metal. You can find it in razor blades, turbine engines and wrenches and it is what gives small playing darts their seemingly inordinate weight.
Now, on the fringes of Dartmoor National Park in Devon, tungsten is to be mined in the south of England, in a move that metals watchers are hoping will help plug a chronic gap in the European market and, as a result, keep the prices of many household items in check.
Excavation work begun on the Hermerdon mine today, marking the first breaking of ground on a metal mine in the UK for more 45 years.
England's south west had been a mining hub since the Bronze Age before workers hung up their hard hats at the South Crofty mine for the last time in 1998.
Now, it's hoped that hundreds of jobs will be created by Wolf Minerals, the mine operator, and that the project will lead to welcome regeneration in a region that has seen agricultural jobs disappear with the advent of technology and automation.
Directly, the mine is expected to create more than 200 jobs, with a further ripple to be felt across the wider local economy.
"I'm speaking from Somerset which isn't far from where the mine will be," Anthony Lipmann, a metals trader tells IBTimes UK. "Even farmers are happy because they're getting several roads which they've been begging the council to build for decades."
The mine will cost around £130m to excavate, with first metals expected to be produced next year. Wolf Minerals, an Australian company, has earmarked the facility to produce 3,000 tonnes of tungsten and tin each year.
But it's the former which will have officials in the European Commission excited, since tungsten appears on its list of critical raw materials.
China produces 80% of the world's tungsten and analysts worry that with such a monopoly on production, European manufacturers could have been held to ransom.
"I think it's pretty rare in Europe, so certainly this mine is very welcome," says Charles Swindon, managing director at RJH Trading.
The latest World Tungsten Report says that "the major trade flows for tungsten are obviously from China, the main producer, to the larger economies such as the USA, Japan and Europe, the principal consumers".
Having a reliable supply of tungsten based in England then, will reassure manufacturers, particularly given recent revelations over fraudulent metals financing in Qingdao Port, China.
The impact of the investment looks set to be felt around the local community. Local newspaper the Plymouth Herald reports that "contracts ranging in value from around £100,000 to £3m have already been awarded to companies across Devon, Cornwall and Somerset as a result".
Design and engineering contractor Centristic secured a £3m contract to provide 11 conveyers for extracted materials, while civil engineering firm Dawnus will pocket £1.7m for the provision of concrete structures.
And while environmentalists may not be happy at the prospect of a new mine (the site has previously hosted a mine) opening in an area of natural beauty, analysts are confident that there will be minimal negative impact.
"There's a paradox that mining is, quite rightly, worrisome to developing countries. This mine will prove that in developed countries you can probably do it so cleanly that nobody will be affected," said one trader, implying that the social responsibility required in the UK is much higher than in developing countries.