FirstGroup, the British transport operator said that its overall trading for the year ended March 31, 2012 has been in line with management's expectations and remains on track to attain overall earnings target for the year.
According to the latest trading update, the group expects its FY 2012-13 to be a year of transition for the company and remains confident by continued progress in its North American operations and believes that improving trends in the US economy will be encouraging for its businesses.
"The group has market leading positions and, while addressing the impact of the present weak economic environment and trading conditions in certain markets in which we operate, we are taking action that will strengthen our businesses for the future. Therefore, the board is committed to dividend growth of 7 percent in line with our current commitment and is confident that the group has good prospects to deliver long-term value for shareholders in a sector which is a key enabler of economic growth," FirstGroup said in a statement.
In the First Student, the recovery plan is set and the group believes that it will continue to deliver in line with expectations. Transit continues to create excellent returns from low capital investment across a range of business segments and the actions which it has taken to transform Greyhound and deliver increased growth and operating leverage are now clearly delivering results, it said.
FirstGroup has pre-qualified for four franchises in UK Rail and is well positioned to progress these and further prospects from the Government's re-franchising programme. However, in UK Bus, given the further decline in economic situations mainly in its urban operations in Scotland and the North of England, it does not expect revenue growth and cost efficiencies to be enough to offset the effect of reduced government subsidies, funding to the industry and increased fuel costs, as a result it presently anticipates UK Bus operating margins to be around 8 percent in FY 2012/13.
While commenting on the trading, Goldman Sachs analyst Oliver Neal said: "Hitherto most UK regional bus companies had appeared confident in their ability to offset higher costs/reduction of various subsidies with higher fares in the year ahead, while the decision to grow the dividend in the face of profit declines may appear unusual we assume that the board is focused on the medium-term earnings power of the group's portfolio of businesses rather than current profitability."
FirstGroup is expected to report its preliminary earnings for the year ended March 31, 2012, on May 23, 2012.
Below is a summary of sector comparisons in terms of price earnings, earnings per share, dividend per share, dividend yields, return on equity and price-to-book ratio. The table explains how the company is performing against its peers/competitors in the sector.The table below represents top six companies based on market capitalisation.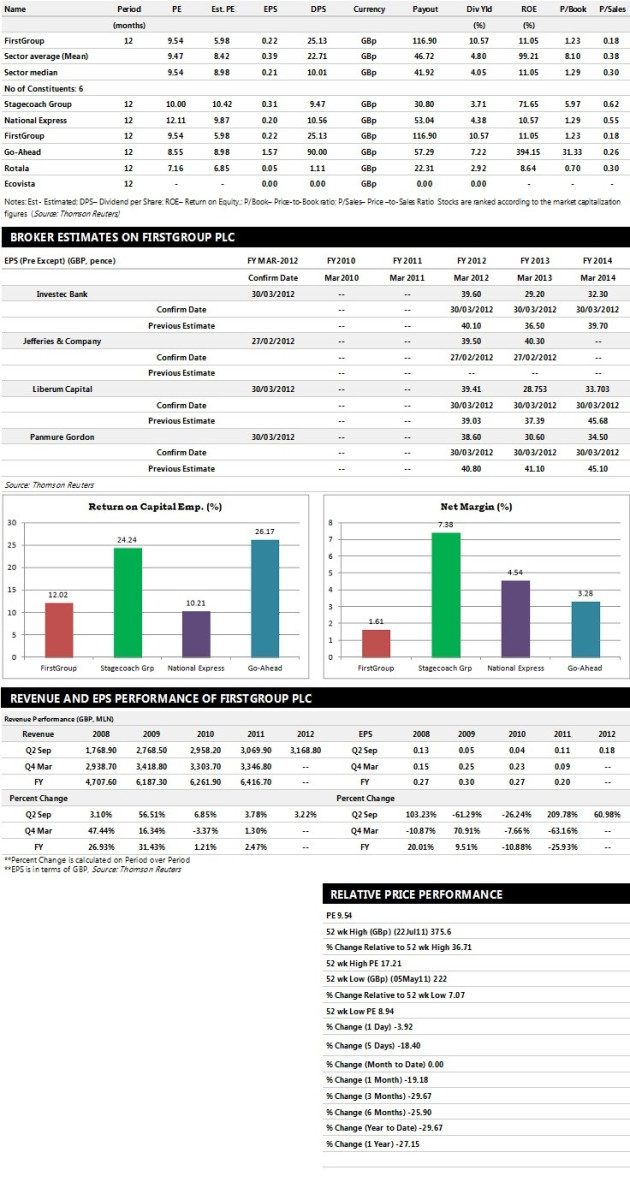 Brokers' Views:

- Liberum Capital recommends 'Hold' rating on the stock with a target price of 428 pence per share
- Investec Bank assigns 'Hold' rating with a target price of 239 pence per share
- Panmure Gordon gives 'Hold' rating with a target price of 260 pence per share
- Jefferies & Co assigns 'Buy' rating with a target price of 430 pence per share
- Shore Capital Stockbrokers assigns 'Hold' rating
Earnings Outlook:

- Liberum Capital estimates the company to report revenues of £6,532.24 million and £6,677.08 million for the FY 2012 and FY 2013 respectively with pre-tax profits (pre-except) of £273.35 million and £192.69 million. Earnings per share are projected at 39.41 pence for FY 2012 and 28.75 pence for FY 2013.
- Investec Bank projects the company to record revenues of £6,611.40 million for the FY 2012 and £6,684.10 million for the FY 2013 with pre-tax profits (pre-except) of £269.40 million and £203.40 million respectively. Profit per share is estimated at 39.60 pence and 29.20 pence for the same periods.
- Panmure Gordon expects FirstGroup to earn revenues of £6,428.00 million for the FY 2012 and £6,411.00 million for the FY 2013 with pre-tax profits of £266.00 million and £199.00 million respectively. EPS is projected at 38.60 pence for FY 2012 and 30.60 pence for FY 2013.