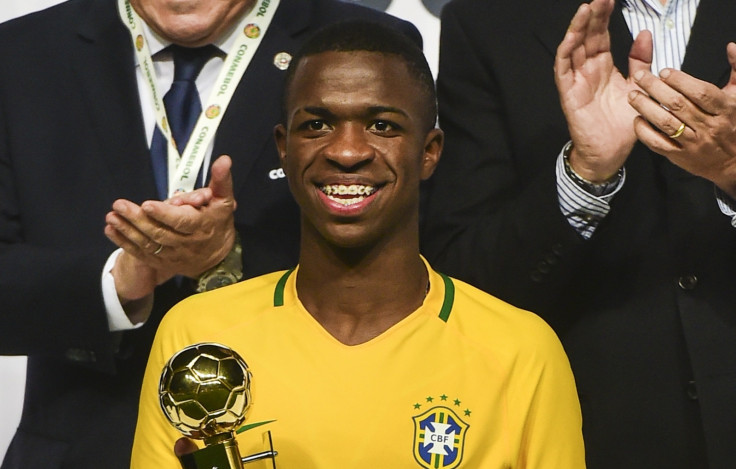 Flamengo forward Vinicius Junior has signed a new deal with the Brazilian club amid interest in the teenager from Spanish giants Barcelona and Real Madrid.
In a statement, Flamengo said Vinicius's salary had been upgraded as part of the new deal and that his buyout clause had been increased to €45m (£38m) from €30m for overseas clubs trying to sign him.
Reports said last week that Madrid had won the race to sign the 16-year-old, who has been dubbed the "new Neymar". Liverpool and Bayern Munich have also been linked with the forward.
Vinicius was named the player of the U-17 South American Championship held in Chile after he helped Brazil win the title by scoring seven goals.
He is eligible to move to Europe in July 2018, when he turns 18. Fifa regulations bar the transfer of players under the age of 18.
"Vinicius has everything to become a top-quality player, to move up to the senior Brazil squad and play for the biggest clubs around the world," Brazil U-17 coach Carlos Amadeu told Goal last week.
"If he remains focused on his goals, he has all the tools. He has a lot of technical qualities and is showing a cool head in amongst all the glamour that is currently surrounding him. He has remained balanced, and if he stays like that he can reach the top."
Amadeu added that Vinicius had a long way to go in order to fulfil his enormous potential and warned against hyping him up too much.
"I also am fully aware that, despite his progression so far, he may well take a very different path," he said.
"I see him as a promising player, but we really do not have to create so much fanfare. He's a good lad, with a good head on his shoulders, and so I really hope that these people who are talking about him so much right now will also show patience when he inevitably starts making mistakes."