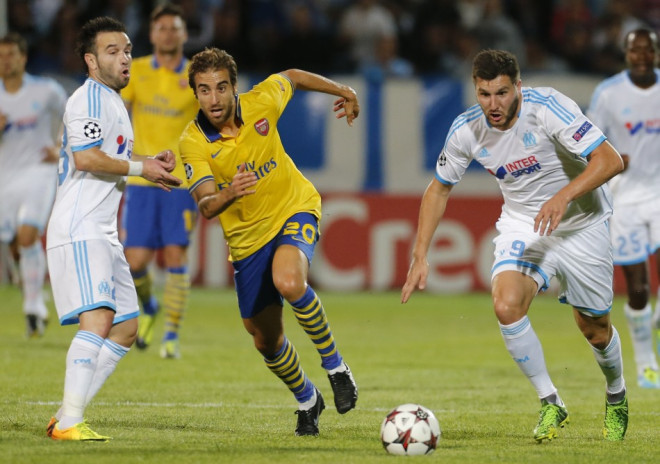 Arsenal midfielder Mathieu Flamini has revealed that he keeps talking to his teammates in order to offer them a helping hand.
The Gunners midfielder joined the club again last summer after spending five years away at AC Milan after leaving the Emirates in 2008. His return has given Arsene Wenger more options through midfield, where he has been deputised to do the dirty work of protecting the back four and stopping counter attacks.
He has done a brilliant job thus far this season and has played a key part in upholding Arsenal's credentials as one of the most defensively astute teams in the league.
Flamini has partnered the likes of Mikel Arteta, Aaron Ramsey and Jack Wilshere in midfield but the constant interchanging of partners has not affected him as a player.
The midfielder, who is very good friends with former Arsenal captain, Cesc Fabregas, is eager to redeem their failure to win the league in 2007/08 when they squandered a five point lead at the top.
The Frenchman revealed that he is always in vocal terms with his teammates as he wants to keep the communication flowing.
"It is good to have someone who gives you some help, someone to talk to you, it is very important. I am trying to help my partners, to speak to them and also get them to speak because football today is all about communication," he told www.arsenal.com.
Flamini revealed that he is happy with the work he does for Arsenal and will continue to do so with gusto if it will help them take the next step in the race for the league title.
"My most important job on the pitch is to protect the back four and it is not easy, especially when the other team is focused offensively and has so many players of real quality," Flamini explained.
"I try to stay in front of the back four, to protect Koscielny and Mertesacker. I'm also trying to co-ordinate between defence and attack, because what is important in football is to attack together and defend together.
"The team is so offensive, everyone goes forward and that is part of the characteristic of Arsenal. We play football based on attacking very quickly; that is the beauty of our game," he concluded.