The Flash episode 7 will introduce another DC comic villain, William Tockman aka The Clock King.
In the 27 November episode titled "Power Outage," Barry Allen will deal with Clock King aka WIlliam Tockman, and Farooq, a meta-human who is also known as Blackout.
According to the synopsis, Barry Allen goes up against Farooq aka Blackout (guest star Michael Reventar), a metahuman who can harness electricity. During the battle, Farooq will drain off all his power, which leaves The Flash without his speed.
Doctor Wells (Tom Cavanagh), Caitlin (Danielle Panabaker) and Cisco (Carlos Valdes) work to reverse the effects on Barry, but their efforts are disrupted when Farooq comes banging on STAR Labs' doors in search of Wells, who he blames for his accident. Without Barry's powers to protect them, the group must figure out a way to save themselves from the metahuman.
Also, Robert Knepper guest stars as William Tockman. He was last seen in Arrow season 2.
Tockman manages a coup inside the Central City police department and takes several people hostage, including Joe (Jesse L. Martin) and Iris (Candice Patton). While Iris is sure The Flash will save them, Eddie (Rick Cosnett) has a trick up his sleeve, according to synopsis.
Here are a few promotional pictures of the episode: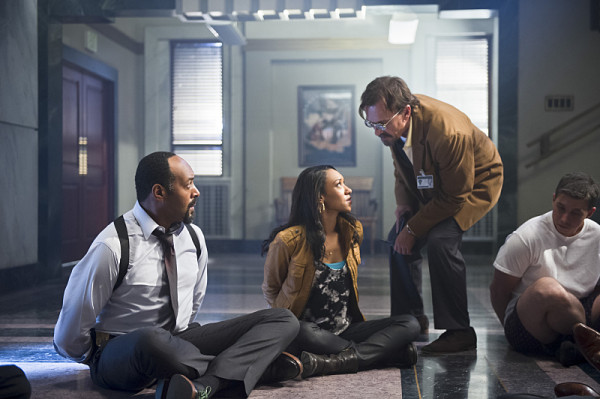 Arrow actor Stephen Amell does not agree with Warner Bros casting a different version of The Flash in their DC cinematic universe.
During an interview with AMC Movie Talk, the Green Arrow actor said: "I thought that the way Warner Bros announced the slate of DC movies could have been handled better."
"And I think someone like Grant Gustin, who has just launched an iconic character like The Flash to record-breaking numbers, numbers that far-surpassed Arrow's numbers, he should have been given a wider berth than two episodes before another actor was announced to play his character," he added.
The actor further stated: "All that being said, that's because I'm protective of Grant, and that's because I think that producing 23 episodes of superhero television is more difficult than producing a feature film, and it's 23 episodes again, and again, and again"
Last month, Warner Bros announced that The Flash will make his way to the big screen in 2018, and actor Ezra Miller will play the lead role.
Who do you think should play The Flash on big screen - Grant Gustin or Ezra Miller?
Let us know in the comment section.