A day after more than 100,000 people marched through New York to warn that climate change is destroying the Earth, over 1,000 activists blocked parts of Broadway in Manhattan's financial district, in protest at corporate and economic institutions' role in the climate crisis.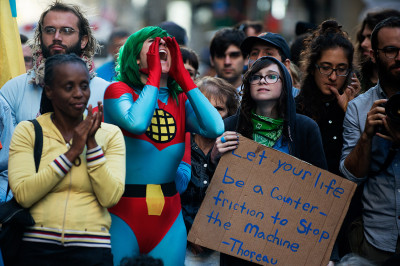 The demonstration was planned as a more confrontational sequel to Sunday's march, with many participants deliberately risking arrest by obstructing traffic in the heart of the US financial capital.
Over 100 people, including a person wearing a white polar bear suit, were arrested after they refused to leave Broadway near Wall Street, police said. Most of the arrests were for disorderly conduct.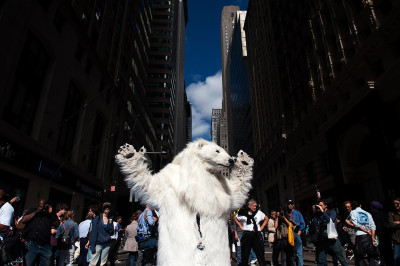 Earlier, the protest took a tense turn as the demonstrators tried to push past police barricades at Wall Street, sparking a brief clash with officers. But by and large, police, office workers and tourists watched alike as the activists occupied Wall Street and chanted anti-capitalist messages.
Peppered with elements of performance art — as well as the person in a polar-bear suit, another wore a Grim Reaper-like robe and a gas mask — the protest encompassed Occupy Wall Street veterans, anti-war activists who see climate change as a still bigger cause and residents of areas battered by Superstorm Sandy.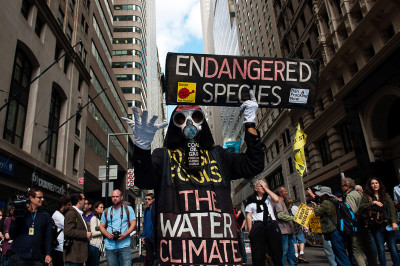 Participants encountered barricades and a heavy police presence as they tried to stream onto Wall Street, home to the New York Stock Exchange, after several hours of demonstrating by the bull statue nearby. Some tried to push through the barricades, and police and protesters tussled as officers held the barriers in place, using pepper spray. Police said no injuries were reported.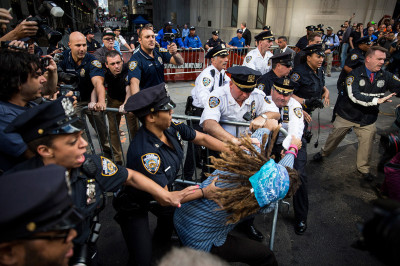 The barricades stayed. So did hundreds of demonstrators, who continued sitting and standing outside the barriers.
Some bystanders took the disruption in stride: "Every time I come here, there's somebody here protesting," said Matilde Soligno, visiting from Bologna, Italy.
Others were sceptical about what the protest stood to accomplish.
"These people aren't convincing me of anything," said Christopher Keane, a lawyer who works in the area. "How did they get here today?" he asked, if not through some use of the fossil fuels they deplore.