Floods in Bosnia and Serbia Leave 25 Dead, Thousands Homeless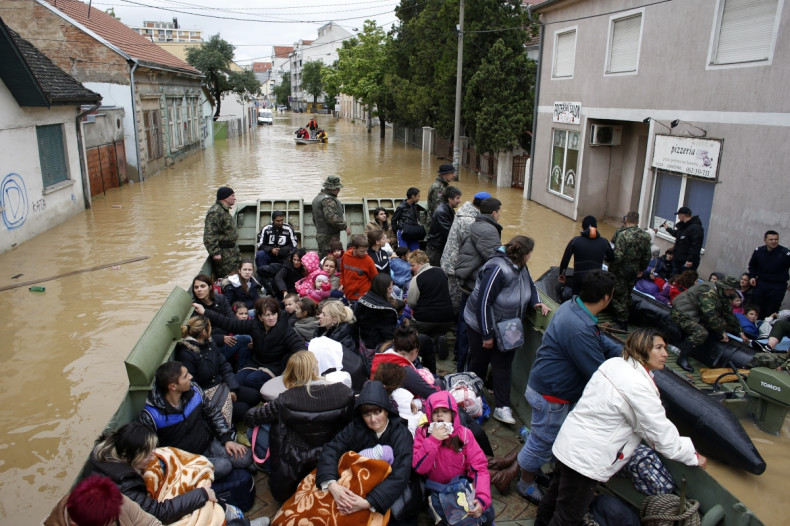 Bosnia and Serbia have been left devastated by the worst flooding to hit the Balkans for a century. At least 25 people are known to have died and the death toll is expected to rise. Thousands of people in both countries have been evacuated from their homes. Help is arriving from across the European Union, including the UK.
Croatia has also been affected by the flooding, caused by the downfall of three months' rain in just three days. In some areas of Bosnia, where one-third of the country is under water, floods reached the second floor of apartment blocks and many people have been plucked from rooftops by helicopter or rescued by boat.
Around 100,000 people had to be evacuated from the town of Bijeljina when flood defences failed to prevent the river Sava bursting its banks. The major of Bijeljina, Mico Micic, appealed for help: "We need everything, we are under water."
The city of Doboj is also said to have been devastated by what the local police chief called a "tsunami, three to four metres high," according to Reuters.
The devastation has been made worse by up to 300 mudslides which buried houses and cars in mud and rock. Many homes in the region had only just been rebuilt following the 1992-95 war in which 100,000 people died across the former Yugoslavia. The chairman of Bosnia's three-man presidency Bakir Izetbegovic said: "We are still not fully aware of actual dimensions of the catastrophe."
The Sava is also causing problems in neighbouring Serbia, where another surge later today threatens to flood Nikola Tesla, the main power station, in Obrenovac. Residents of Obrenovac and Baric are being evacuated by bus, military truck and boat. Residents are asking for donations of blankets, food and clothing for the worst-hit areas.
Sports stars from the region have been appealing for help from the international community. Tennis player Novak Djokovic, from Serbia, wrote on Twitter: "Support for everyone! Let's help the endangered! Join the aid action!" Manchester City's striker Edin Džeko also asked for people to help both countries.