The worst rainfall in more than a century has flooded large swathes of Bosnia and Serbia, unleashing landslides that have swept away homes and unearthed landmines left over from the region's war, along with warning signs pinpointing their locations.
Walls of mud and earth have carried some of the estimated remaining 100,000 landmines to entirely new, often unknown, locations.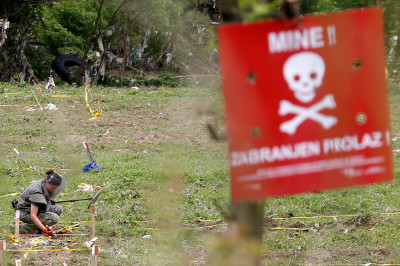 A new calamity has emerged in the flood-hit Balkans: tons of drowned livestock are posing a health hazard.
Receding floodwaters reveal a harrowing sight: thousands of dead cows, pigs, sheep, dogs and other animals that were left behind after their panicked owners fled.
"There are tons of dead animals that we must dispose of," Serbian Prime Minister Aleksandar Vucic told a government meeting.
Authorities in Bosnia have asked for international help to deal with the animal carcass problem, while governments in both Serbia and Bosnia have set up special phone lines for people to reach sanitary teams to pick up dead animals.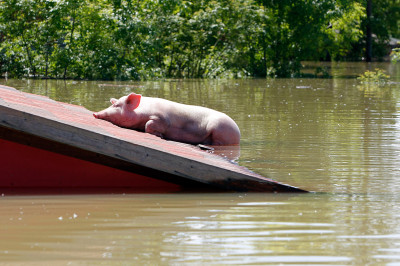 The record flooding in Serbia, Bosnia and Croatia in past week has forced half a million people out of their homes and led to at least 40 deaths: 20 in Serbia, 18 in Bosnia and two in Croatia. Authorities say the death toll still could go higher.
Another surge of floodwaters on Monday prompted the evacuation order for a dozen communities, including Obrenovac in Serbia, where soldiers, police and volunteers worked around the clock to protect the coal-fired Nikola Tesla power plant, which supplies electricity for half of Serbia and most of Belgrade.
Emergency crews have so far defended the plant by building high walls of sandbags, but some of the barriers were destroyed when a powerful nine-foot-high surge of floodwater burst through them on Monday.