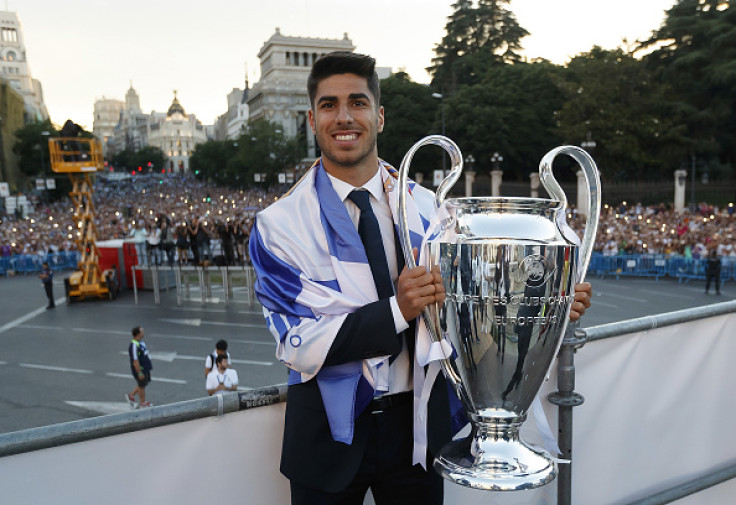 Real Madrid president Florentino Perez has revealed how 2017 French Open winner Rafael Nadal helped the 12-time European champions in signing Marco Asensio from Mallorca in 2014.
The 21-year-old came up through the ranks of Mallorca's youth system before being promoted to their B Team in 2013. The same season, he was promoted to their first team and he impressed for the Palma-based outfit.
Asensio was attracting interest from Real and Barcelona after impressing in his first season at Mallorca. Nadal's uncle Miguel Angel was the sporting director at Iberostar Stadium and Perez used the "King of Clay", who recently won the French Open for the 10th time, in signing the attacker for the Spanish capital club.
"I called Rafa Nadal and asked him to talk to his uncle [former Barca player] Miguel Angel, who was Mallorca's sports director," Perez said in an interview he gave to 'El Transistor' by Onda Cero and Radio Marca.
"[I told Nadal] to tell him that we wanted to buy him [Asensio]. He behaved perfectly and we closed the deal quickly."
Asensio, on joining Real, was sent back on loan to Mallorca for the 2014/15 season. He continued his development while on loan at Espanyol during the 2015/16 campaign, before returning to Zinedine Zidane's squad for the last season.
The Spain international made his Real debut in the Uefa Super Cup clash against Sevilla. He was on the scoresheet as his side went on to beat Sevilla 3-2 last August. He has impressed for Real last season and scored in their 4-1 Champions League final victory over Juventus in Cardiff.
Perez believes Asensio has all the qualities to win the Ballon d'Or in the future with Real.
"No, not at all. Asensio is not only capable of being world class, he can win the Ballon d'Or. He has all the conditions to succeed. He is humble, hard working, sensible, a team player and of tremendous quality. All his teammates recognise that," Perez told Marca.
"It's not about money. He's one of those players that we signed because they have the conditions to play in the first-team. This has been his debut season and Zidane has handled it wonderfully. Every time he has played, he has done it magnificently, but the other day was something he did not forget in a long time."
Asensio won the La Liga, the Champions League, the Uefa Super Cup and the Fifa Club World Cup with Real last season.