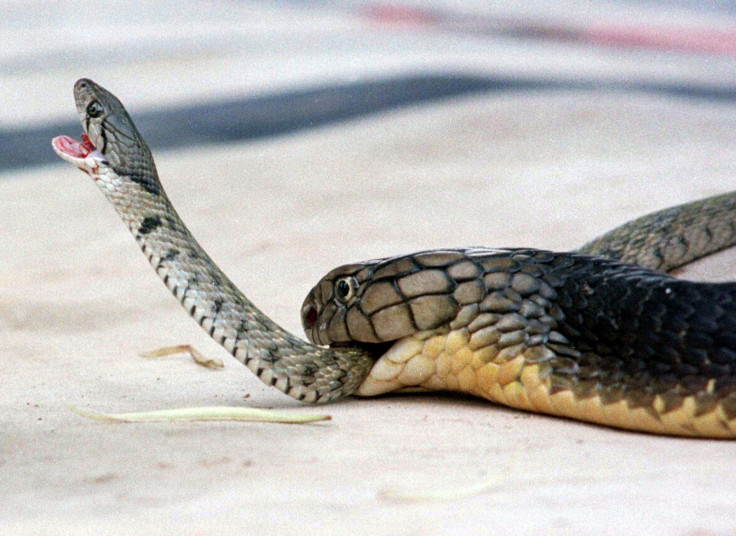 A school in Orlando, Florida was forced to keep students inside on 3 September, as state wildlife officials searched for an 8-foot-long venomous king cobra on the loose. The snake, which has enough venom to kill up to 20 people, was reported missing from its home on 2 September.
Greg Workman, spokesman for the Florida Fish and Wildlife Conservation Commission, said the snake escaped from its owner's home, which is less than a mile from the school. While Workman did not name the snake's owner, he said the owner has the proper permit to keep the exotic snake as a pet.
Clarcona Elementary School Principal Robert Strenth called parents and left a voicemail saying, "We are moving all outside activities, including PE and recess, inside. And we will be relocating our portable classrooms into the mail building."
According to the Orlando Sentinel, the snake escaped the home owned by Discovery Channel star Mike Kennedy. Kennedy could face criminal charges for failing to alert the authorities about the escaped king cobra right away, WESH reported. The snake actually went missing on 1 September.
Records show Kennedy owns Dragon Ranch, a non-profit animal sanctuary out of his home, the Sentinel reported. The sanctuary's website states Kennedy studied zoology at the University of Central Florida and takes care of a number of exotic animals, including a cougar, leopard and crocodiles.
The non-native, venomous snake was described by officials as green and yellow. It is found in the wild in parts of southeast Asia and can grow up to 18 feet long, the Sentinel reported. Officials stated they believe the snake is likely to stay in densely wooded areas, Fox News reported. Carl Barden, owner of the Reptile Discovery Centre, told the Sentinel, "The chances of that snake actually biting someone are extremely remote." Braden added that there is "plenty" of king cobra antivenin in Central Florida.