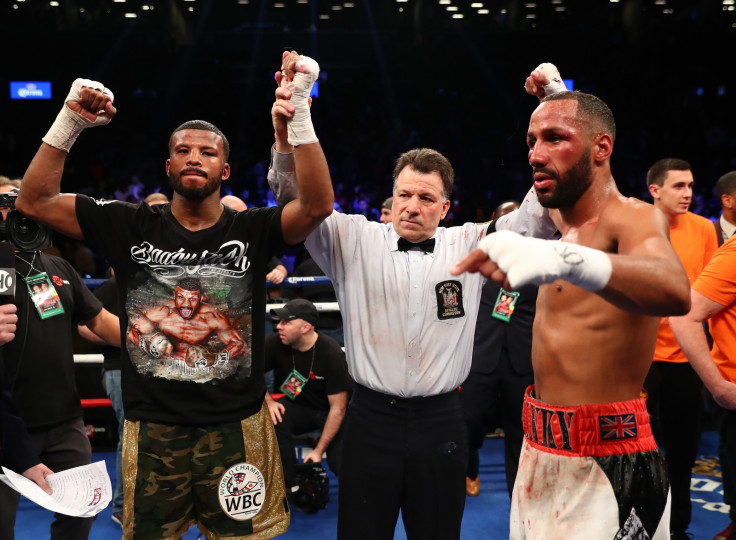 James DeGale's trainer Jim McDonnell has accused Floyd Mayweather J of 'illegal' tricks during the Briton's draw with Badou Jack, claiming the former five-division world champion was checking the scorecards between rounds.
The 56-year-old, who was once a world title challenger, is adamant his man deserved to win in New York. One judge felt the Londoner was the victor with a score of 114-112 whilst the other two deemed it a draw at 113-113, meaning both men retained their super-middleweight titles.
The result has left DeGale's trainer aggrieved, and he has suggested that Mayweather - who is mentoring the Swedish fighter - was trying to influence officials throughout the fight. "One of the things that I need to double-check is that I was told that Mayweather was checking the scorecards off the judges in-between rounds, to me that's illegal," he complained.
"But he was trying to say to Badou Jack after one of the rounds, 'man, you're one down, you gotta' win the next round," the former featherweight and super-featherweight alleged.
The trainer was also unhappy with the way Jack's corner behaved before the fight. He claims that members of Mayweather's team attempted to ban DeGale's entourage from reaching their corner of the ring. "I'm thinking, you're on a Mayweather bill in America, against an American-based fighter with three American judges. James DeGale showed great mental strength and he won that fight for me," McDonnell added.
Immediately after the fight, DeGale demanded a rematch on home soil, as he looks to unify the IBF and WBC titles following the stalemate in the Big Apple. It is unlikely however that the pair will fight again, with Jack set to move up weight divisions after relinquishing his WBC crown.