Floyd Mayweather records comfortable points victory over Manny Pacquiao in Las Vegas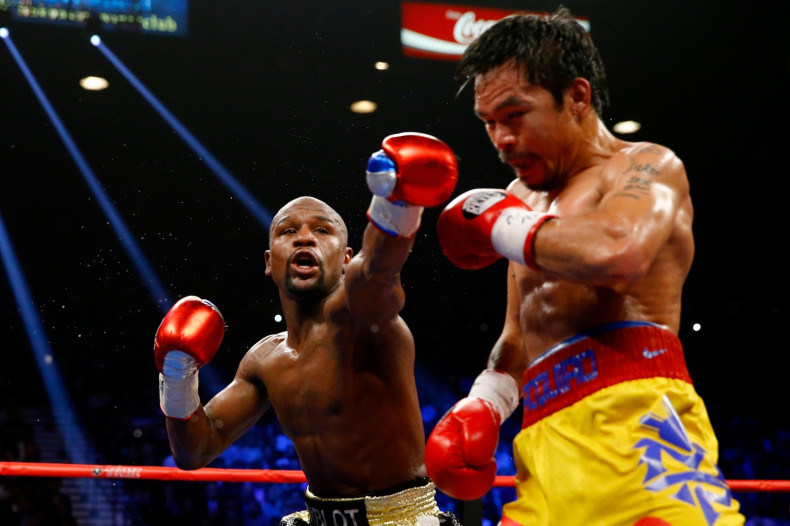 Floyd Mayweather gave a commanding performance to beat Manny Pacquiao via a unanimous decision and become the unified WBA, WBC and WBO welterweight champion at the MGM Grand in Las Vegas.
In characteristically controlled fashion, the unbeaten 38-year-old stretched his impressive professional record to 48-0 and also reinforced his reputation as the world's best pound-for-pound fighter as Pacquiao failed to contend with his sheer speed and superior footwork to lose 118-110, 116-112, 116-112 on the judges' scorecards.
Looking to keep the bout focused in the centre of the ring early on, Mayweather got his right jab working well from the outset of the so-called 'Fight of the Century' and his Filipino opponent struggled to land any meaningful shots in response as he was kept at a safe distance.
The crowd, who turned out largely in support of the affable Pacquiao on the night, were unhappy with what they perceived to be unnecessary and tactical holding from 'Money' as their man looked to get in close, yet referee Kenny Bayless' reprimands never stretched beyond a stern word.
Round four looked to be somewhat of a breakthrough for Pacquiao in his bright yellow trunks as he brought the crowd to their feet by landing a hard left and unleashing a barrage of shots on the wounded Mayweather who was backed against the ropes with his hands up.
He failed to build on such momentum, however, and Mayweather's ability to effortlessly glide around the ring meant that he avoided getting tagged with anymore potentially debilitating punches in the fifth.
Another strong left in the sixth round once again had him against the ropes, yet Pacquiao's best efforts to put him permanently on the backfoot proved to be in vain as the American gave a defiant shake of the head to signal that he had not been hurt.
By this point is was becoming obvious - if it was not already - that it would take something remarkable for the smaller man to secure a knockout and surely aware now that he was ahead, Mayweather was content to continue his gameplan of working the jab and the cross and not getting drawn into a costly slugfest.
There was always the possibility that Pacquiao, who recovered from two consecutive defeats to Timothy Bradley and Juan Manuel Marquez in 2012 to record wins in his last three fights, would get frustrated and reckless as the fight wore on and walk helplessly onto the wrong end of another devastating KO hit.
Such fears were never realised, but he did continue to struggle to pin down Mayweather as the fight drifted towards its closing stages and looked visibly tired entering the final two rounds despite a brief rally in the 10th.
"I thought I won the fight. He didn't do anything," a strangely oblivious Pacquiao was quoted as saying by the Daily Mirror immediately after the scores were announced with little controversy.
"He was moving around on the outside, so it's not easy to throw a lot of punches. I could handle his power. I have fought bigger than him and not had a problem."
On the televised undercard, two-time Olympic gold medalist Vasyl Lomachenko retained his WBO featherweight belt with an impressive ninth-round stoppage of challenger Gamalier Rodriguez.
Leo Santa Cruz, meanwhile, was surprisingly taken the distance by plucky fellow Mexican Jose Cayetano on Cinco de Maya weekend but won 100-90 on all three cards after an entertaining bout to move his professional record to 29-1-0.