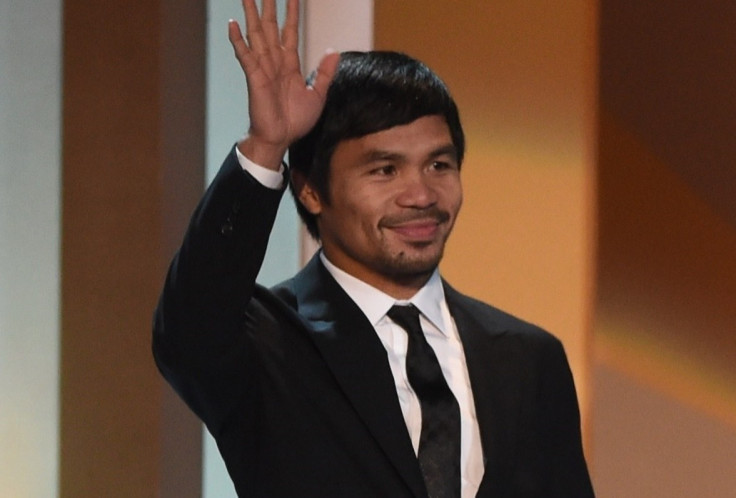 Floyd Mayweather Jr and Manny Pacquiao are on the brink of agreeing to a $250m super fight after both boxers signed up to a monitored drug-testing programme ahead of the prospective bout.
The fight fell through in 2010 after Pacquiao refused to adhere to demands from the Mayweather camp for both men to undergo an Olympic-style drug testing schedule, a facet of the negotiations which have been a bone of contention between the two fighters.
But with that crucial stage of the deal settled, Pacquiao says the fight is "near" to being ratified after a $5m fine was agreed for any failed test or inability to complete the blood testing programme, which will take place 30 days prior to the clash.
"[The fight] is near. The negotiations are nearly finished," Pacquiao said. "We agreed that this fight has to happen. We are ironing out the kinks. He [Mayweather] said he wants the fight to push through.
"We agreed to their demand. In fact, I suggested a $5m fine if I test positive for drugs."
Mayweather denied earlier this week that a fight had been signed for the meeting on 2 May in Las Vegas after reports suggested Pacquiao had already agreed to his half of the contract.
The unbeaten American was understood to be considering announcing the confirmation of the deal during Sunday's NBA All-Star game but the 37-year-old denied the claims and said the deal was some way from completion.
"That is not true," Mayweather said. "I haven't signed yet. He hasn't signed yet. It's just been speculation and rumours, but hopefully we can make that fight happen."
Talks ahead of the long-awaited fight have been made all the more complex by both fighters being represented by different promotional companies and alternative television networks.
Showtime Television currently has a deal to screen the last two fights of Mayweather's career, expected to be in 2015, while HBO Sports, which has shown all but three of Pacquiao pay-per-view bouts, has been representing the Filipino.
A deal is understood to have been stuck for a fight which combined with ticket sales could become the highest grossing boxing event in history with the shared purse for Mayweather and Pacquiao expected to top $250m.