Floyd Mayweather v Manny Pacquiao: Latest developments and details behind $200m showdown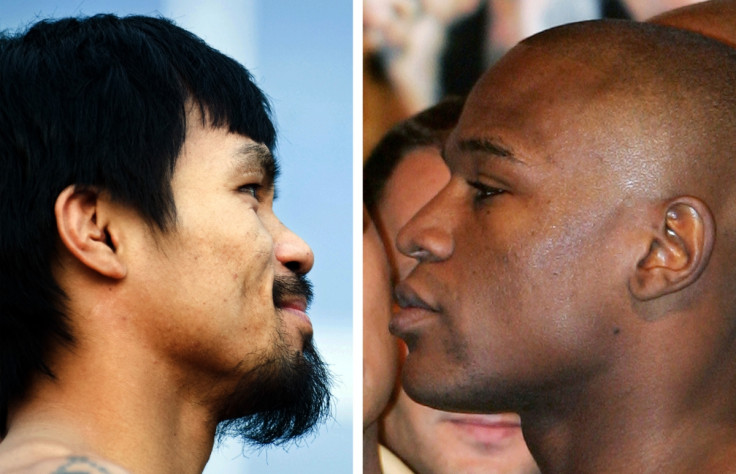 Talks between Floyd Mayweather Jr and Manny Pacquiao for what will be the richest fight in boxing history are ongoing. That much, we know.
While that is reason for cautious optimism, six years of failed negotiations between the two camps ensure hopes should be kept firmly in check until an official confirmation is in place.
Given the number of parties involved in talks over a showdown that is likely to be worth $200m (£130m), there is a lot to keep track of. But unlike in previous negotiations, there is some semblance of positivity over Mayweather v Pacquiao taking place emanating from all quarters. IBTimes UK considers where we currently are with all involved.
The fighters
With Mayweather restricting most of his thoughts about the possibility of a Pacquiao bout almost exclusively to social media, it has been up to the Filipino fighter to provide us with the occasional interview or comment. After issuing an ultimatum that came and eventually passed in January, he earnestly kept the ball rolling with comments made to Fox News on 8 February, where he declared he hopes to have received confirmation of the fight later on in the month.
He followed that up with an Instagram post on 11 February with the message 'Spend[ing] time with my family before we start our formal training for the fight."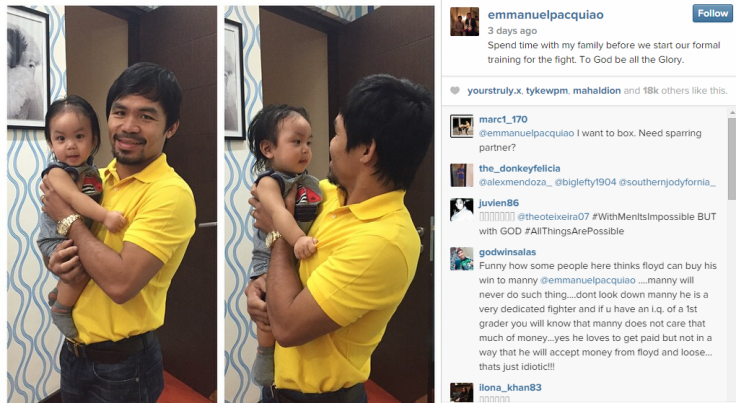 Mayweather, meanwhile, has been silent since posting a compelling message of his own at the start of the week.
On 27 January, both he and Pacquiao were in attendance at a Miami Heat game and shared a couple of words before exchanging phone numbers. That inevitably sparked rumours of a one-on-meeting between the two. Mayweather has done little to dispute that and on 9 February, he posted a video of himself and Pacquiao sat down having another chat, stating: "Before we leave this sport we have to make this fight happen."
While there is no way to work out when this conversation actually took place, the timing of its emergence is interesting.
The promoters
Bob Arum has been synonymous with Mayweather v Pacquiao for better or for worse over the past six years. Usually the latter. The Top Rank CEO's claims this year alone have ranged from the predicable – claiming serious talks over the showdown were under way as early as September 2014 – to the downright outrageous – suggesting Prince Harry might be keen on doing his bit to get Pacquiao to fight Amir Khan in London if Mayweather walked away.
But speaking to Association Press on 5 February, Arum boldly suggested a deal between HBO and Showtime had been met, claiming there were only two more unresolved issues to address before the deal is done.
What Al Haymon, Mayweather's adviser, thought of all this is as good as a guess as anyone's. If reports are to be believed, Haymon has been handling his client's negotiations but unfortunately for us, he does not talk to media.
The networks
Showtime, the network behind Mayweather, was quick to disagree with Arum's assertion that a deal was done. Speaking to USA Today earlier in February, chief executive Stephen Espinoza admitted that while they were "optimistic", there were still "a few significant issues on the network side and the fighters' side".
With a worldwide audience desperate to point the finger at someone for the delay, Espinoza denied on Twitter on 10 February that Mayweather is not the one holding up the deal.
Around the same time as Showtime's statement, Pacquiao's HBO Sports further rubbished Arum's claims. The network's president Ken Hershman was quick to distance himself from talk of a confirmed deal between the two networks, although he did insist HBO is "not an impediment to that happening".
"The sooner, the better, just to get this done or not because we have a lot of other fights on the runway that we want to start moving along," he added.
What is promising, though, is both HBO and Showtime have acknowledged ongoing talks. While disparate, the two networks appear keen to come to an arrangement that would likely see a joint-broadcast of the fight stateside.
The supporting cast
Everyone has their say on Mayweather v Pacquiao. There has certainly been no shortage of people to cast doubt on the fight ever taking place, though, most notably Francisco Valcarcel, president of the World Boxing Organization. "People want to see Mayweather and Pacquiao and I want to see Mayweather and Pacquiao, but again, like I tell you before, I got my doubts that fight is ever going to happen," Valcarel told Fight Hype.
"You got too much stuff there to come to terms and agree to and it is not easy when you are dealing with two, three, four, five, six and seven, parts; not easy... not easy."
© Copyright IBTimes 2023. All rights reserved.