Follow LIVE coverage of Floyd Mayweather v Manny Pacquiao here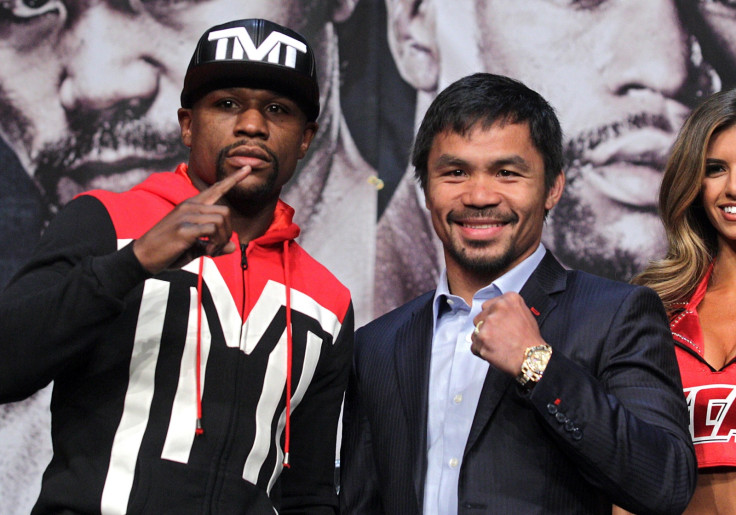 Floyd Mayweather Jr faces Manny Pacquiao in the most eagerly anticipated fight in boxing history at the MGM Grand in Las Vegas.
Where to watch
Mayweather v Pacquiao is available to watch live exclusively on Sky Sports Box Office with the broadcast scheduled to get under way at 12am (BST) on 3 May.
Overview
The most anticipated fight in the modern history of boxing sees the sport's pound-for-pound kings collide in a battle for the ages in Las Vegas. After years of excuses from both fighters, Mayweather and Pacquiao go head-to-head with everything on the line in Nevada.
Years of negotiations, social media sniping and debate over who is the finest fighter of the welterweight division looks set to end as Mayweather and Pacquiao sacrifice their reputations in a fight expected to gross $500m (£330m).
Mayweather faces the great challenge to his 47-fight unbeaten professional record, which sees him ranked as among the pantheon of boxing greats. An emphatic response to questions over his ability to topple Pacquiao will cement his legacy at the summit of the sport.
For Pacquiao, the weekend represents the fiercest test of the resolve and ferociousness which has defined his career. After defeats to Juan Manuel Marquez and Timothy Bradley in 2012, the Filipino is now reborn in the twilight of his career.
However, questions remain over his ability to repeat a recent revival against the best defensive fighter in the business and who after 47 straight victories is the big favourite to extend his record.
The only hope for the six-weight world champion is a sign that Mayweather's defining speed is starting to evade him. Wins over Saul Alvarez and Marcos Maidana were accompanied with uncertain displays and it might be that the American requires an attritional display rather than one littered with panache.
Either way, fans inside the MGM Grand – of which there are scheduled to be less than a 1,000 after many of the 16,500 seats were reserved for sponsors and promoters – will be treated to match years in the making and among the most grandiose in history.
What they've said
Floyd Mayweather: "From the beginning of my career, I've always had a game plan. It's just like chess. We make calculated moves in the ring and outside the ring. I got with the right team and surrounded myself with the right chess pieces.
"I'm a lot wiser than I once was. This fight sells itself. Our ultimate goal was to get to this point, whether it was Manny or another fighter.
"I don't take anything away from Manny Pacquiao. He's a solid fighter; a solid competitor and it will be an intriguing match-up come Saturday.
"Everything takes time, it's all about timing. I'm glad that we had patience and didn't rush. The time is now, this is the right time for this fight.
"This fight is about one fighter who is at the top fighting another fighter who is at the top. It's about giving you guys excitement. We don't know how this fight is going to play out, but I believe in my skills. I believe I am going to be victorious.
"When I went to training camp I worked extremely hard to win this fight and I'm pretty sure Manny did the same. That's why this is an intriguing match-up."
Manny Pacquiao: "I'm so happy because that feeling and that focus that I had many years ago, is back. I'm confident and relaxed.
"My love and eagerness for this fight has made me especially interested. I would like to invite everyone to witness the great fight between Floyd and I this Saturday.
"Before I became a boxer, I used to sleep on the street. I can't believe that I am in this position. The boy who didn't have food and slept on the street can have this life.
"On Saturday our goal is to make the fans happy with our performance. Both of us will work very hard to entertain the fans and give a good fight.
"I hope that both Floyd and I do our best on Saturday and to put our name in boxing history. The most important thing I hope for is that after the fight I can talk with Floyd about being an inspiration to people all around the world."
Records
Mayweather – 47 fights, 47 wins (26 via knockout)
(W) – Marcos Maidana – unanimous points decision – September 2014
(W) – Marcos Maidana – majority points decision – May 2014
(W) – Saul Alvarez – majority points decision – September 2013
Pacquiao – 64 fights, 57 wins (38 via knockout)
(W) – Chris Algieri – unanimous points decision – November 2014
(W) – Timothy Bradley – unanimous points decision – April 2014
(W) – Brandon Rios – unanimous points decision – November 2013
Prediction
The slow, deliberate a tepid build-up to this eagerly anticipated fight is likely to be reflected in a contest where Mayweather will be expected to soak up early pressure before frustrating and outlasting Pacquiao. The Filipino is the fans' favourite but his attacking tactics could be his undoing. Mayweather on points.
Undercard
Leo Santa Cruz v Jose Cayetano
Vasyl Lomachenko v Gamalier Rodriguez
Chris Pearson v Said El Harrak
Jesse Hart v Mike Jimenez
Andrew Tabiti v Anthony Caputo Smith
Brad Solomon v Adrian Rene Grandos