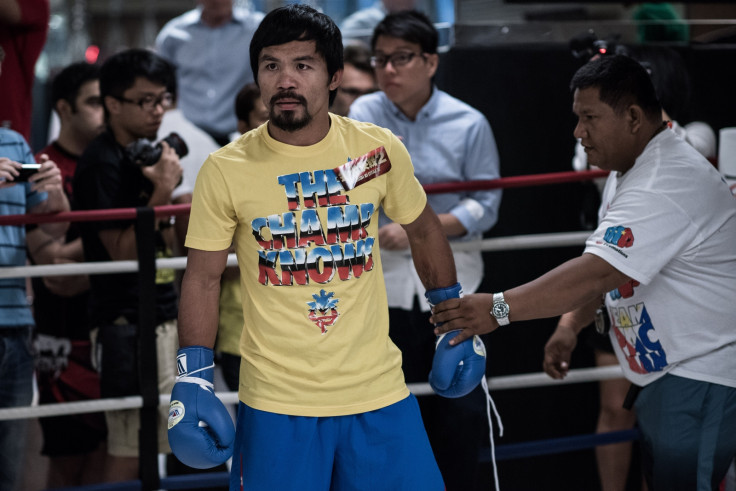 Manny Pacquiao has given Floyd Mayweather Jr until the end of the month to sign a contract for a May showdown in Las Vegas, or he will move on.
Pacquiao has spent the start of 2015 urging his long-term adversary to commit to what would be one of the most anticipated fights in modern boxing history - and the most lucrative.
The 36-year-old Filipino fighter has been insistent he has already signed his half of the contract for the fight that could be worth over $200m (£132m) but has warned five-weight world champion Mayweather he will pursue other targets if he hears nothing by the end of January.
"My promoter and I, we have already agreed to the terms and conditions of whatever he wants," Pacquiao told the LA Times. "We're just waiting on the signed contract from him.
"That's the hardest part – if they will fight or not. We have to know soon, because if they will not fight, we can move on and choose another opponent.
"We have a deadline... this month."
Negotiations over a Mayweather v Pacquiao fight have fallen by the wayside for a number of reasons over the past six years but a breakthrough appeared to be reached at the end of 2014.
However, Mayweather's silence in the new year has seen those old doubts remerge, with Pacquiao recently admitting he has "no idea" if the welterweight kings will meet in May.
"The fans deserve this fight," Pacquiao said. "No more will people bother me, 'can this fight happen?' It is time to make it happen. We are waiting on a signed contract for him."
But Mayweather refuses to be rushed through negotiations, telling Fight Hype in December he and his people will handle business like "true professionals".