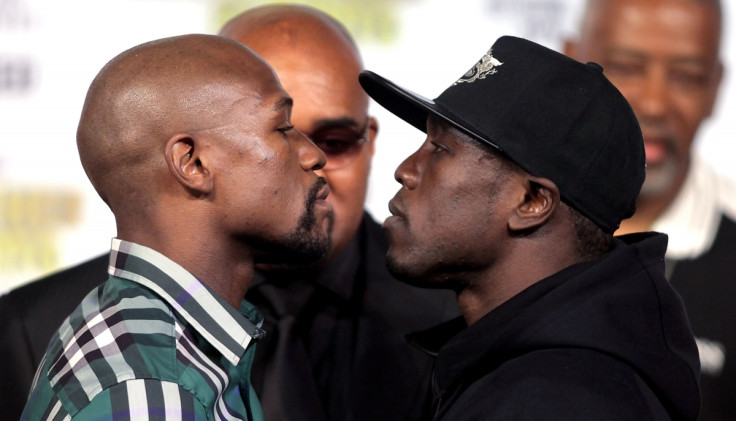 Floyd Mayweather Jr aims to take his unbeaten record to 49 fights in the final scheduled bout of his career against Andre Berto in Las Vegas.

Where to watch
Mayweather v Berto is available to watch live on BoxNation, with the ring walk scheduled for between 3.30am and 4am on Sunday 13 September. The fight is the main event on an extensive card that also includes Badou Jack against George Groves for the WBC super-middleweight title.
Overview
The build up to Floyd Mayweather's final scheduled bout of his professional career and date with destiny as he attempts to equal Rocky Marciano's record of 49-0 has been riddled with controversy. SB Nation has claimed that Mayweather took substances intravenously before his win over Manny Pacquiao, which contravenes World Anti-Doping Agency regulations.
Mayweather has delivered an unconvincing response both to the allegations of doping before the fight and to accusations that opponent Andre Berto is walking into 12 rounds of playing second fiddle to the unbeaten American. Berto may be a two-time world champion but three defeats in his last six fights, including one by knock-out to Jesus Soto Karass, is a decent indication of the threat he possesses.
But after agreeing to a long-awaited bout with Pacquiao, Mayweather will argue he has earned his walk in the park in Las Vegas. The truth is the distinct lack of interest in his 49th professional bout is down to the standard of his uncertain opponent. Berto might have the speed to trouble Mayweather, but the reality is he is vulnerable to a knock-out – a method of victory the 38-year-old has achieved once in the last six years.
After putting fans through 12 gruesome rounds in Nevada, the next question will surround when Mayweather will finally concede that Berto does not represent his final opponent. Anyone who has followed Mayweather's career with even fleeting interest knows the opportunity to reach a half-century of victories with barely a scratch is too great a temptation to turn down. It is a case of when, and not if.
What they have said
Floyd Mayweather: "It's like they say in football, any given Sunday. I say any given Saturday, anything can happen. So I'm prepared. I'm prepared mentally and physically. I'm in top shape. I'm ready. I'm pretty sure he's in top shape and he's ready. But I'm not going to overlook him.
"I want to win just like he wants to win. I'm working out - I'm pushing myself every day. As I get older I'm working harder. Actually, I think this camp I sparred a lot more, I pushed myself a lot more. I think I worked harder this fight than I did for the Pacquiao fight."
Andre Berto: "You can be smart, fast, this and that, but one shot can change it all. This camp has definitely taken me to levels I haven't been. I'm in great shape, mentally focused, I have this tunnel vision.
"I'm over it all. I prepared myself to deal with it. I don't read any of this.... How can another man tell me what I don't deserve? I don't comprehend it. I don't engage it."
Records
Floyd Mayweather - 48 fights, 48 wins (26 via knockout)
(W) – Manny Pacquiao – unanimous decision - May 2015
(W) – Marcos Maidana - unanimous decision – September 2014
(W) - Marcos Maidana – majority decision – May 2014
Andre Berto - 33 fights, 30 wins (23 via knockout)
(W) – Josesito Lopez – knock-out - March 2015
(W) – Steve Upsher Chambers – unanimous decision - September 2014
(L) – Jesus Soto Karass – knock-out - July2013
Prediction
Since being floored by Karass in 2013, the quality of Berto's opponents in no way prepares him for the speed of Mayweather, who if his performances against Roberto Guerrero, Saul Alvarez, Marcos Maidana and Manny Pacquiao are any indication could cruise through his fight without having to break sweat. Expect the American to string it out over 12 rounds however, to give the paying public their money's worth.
Rest of the card
Badou Jack v George Groves
Roman Martinez v Orlando Salido
Ishe Smith v Vanes Martirosyan
Jhonny Gonzalez v Jonathan Oquendo