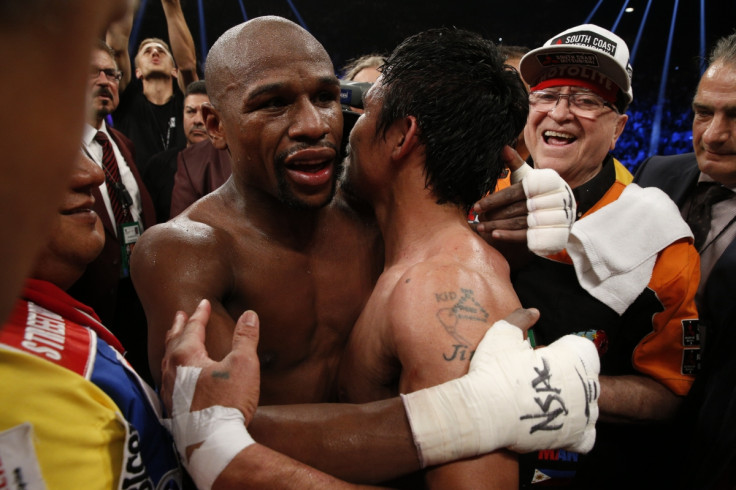 Floyd Mayweather received a banned intravenous injection less than 48 hours before beating Manny Pacquiao, an injection for which he did not receive a legitimate exemption until nearly three weeks after the $300m (£194m) Las Vegas megafight. The United States Anti-Doping Agency (Usada) authorised the administering of the substances but the Nevada State Athletic Commission claim they were not accredited to grant immunity.
SB Nation claims that though the substances, including two separate mixtures of saline and multivitamin (250ml) and saline and Vitamin C (500ml), are not banned by the World Anti-Doping Agency, the administering of more than 50ml over a six-hour period through an IV line is against their regulations. Mayweather's medical team told Usada collection agents the substance was being given to the American for rehydration purposes.
However, 17 days after the 2 May bout, which Mayweather won via a unanimous points decision, the 38-year-old pugilist applied for an exemption that was then granted by Usada. The Nevada commission and Pacquiao's stable Top Rank did not learn about the indemnity until 21 May.
"The TUE for Mayweather's IV – and the IV was administered at Floyd's house, not in a medical facility, and wasn't brought to our attention at the time – was totally unacceptable," Nevada executive Bob Bennett said. "I've made it clear to Travis Tygart that this should not happen again. We have the sole authority to grant any and all TUEs [therapeutic use exemptions] in the state of Nevada. Usadais a drug-testing agency. Usada should not be granting waivers and exemptions. Not in this state. We are less than pleased that Usada acted the way it did."
Though Mayweather was awarded dispensation nearly three weeks after the fight, Pacquiao was denied permission by the commission to take a legal painkiller to treat a damaged rotator cuff that he would later have surgery on prior to the bout after having not submitted the plea in timely fashion. The episode also followed years in which negotiations between the two fighters broke down over drug-testing procedures in the lead up to a potential meeting. Usada oversaw a random programme throughout the build-up to the clash.
The news works to disrupt Mayweather's build-up for the final fight of his 19-year professional career against Andre Berto on 12 September, and draws questions over the legitimacy of his performances, particularly in beating Pacquiao four months ago. The five-weight world champion has won all 48 of his professional fights and the meeting with Berto is the final bout scheduled on his Showtime Television contract.