IBTimes UK spoke with human rights activist and former political prisoner Ebenezer Akwanga on the struggle for independence in Southern Cameroons. He is the president of the Southern Cameroons Youth League and, in 1997, he was imprisoned and tortured in Cameroon for six years due to his political activism.
After leaving his homeland in 2003, he filed a petition against Cameroon for multiple human rights violations. In 2011, the United Nations Human Rights Committee found Cameroon had breached several Civil and Political Rights during Akwanga's detention. However, he has not received any compensation yet.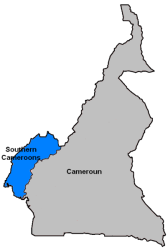 Southern Cameroons
Southern Cameroons was the southern part of the British Mandate territory of Cameroons during the colonisation.
In 1961, people of Cameroon voted whether to join Nigeria or the Republic of Cameroon, which had already obtained independence from Britain and France one year earlier.
The vote resulted in Southern Cameroons becoming part of Cameroon.
More on possible alliance between Southern Cameroons and Biafra.
"Around 1984 the Cameroon Anglophone Movement started. It was first looking for a return to a federal system of governance and later on became the Southern Cameroon Restoration Movement," he said.
"The Southern Cameroons Youth League was born and our goal was simple: We wanted the total and unconditional independence of the Southern Cameroons."
Akwanga alleged that human rights abuses against pro-independence activists in Southern Cameroons are common.
He called on the international community to pay attention to the situation in his homeland, where he alleged activists are routinely arrested, tortured and killed.
The Cameroonian embassy in London has not replied to a request for comment.