Folk Music Legend Joan Baez Sings Imagine to Turkish Protesters [VIDEO]
Legendary folk singer and activist Joan Baez has expressed her solidarity with Turkish anti-government protesters and the Occupy Gezi movement, by recording a video in which she sings John Lenon's Imagine.
"I wish to express my support for the Turkish citizens, lawyers, doctors, kids, families, students, in your courageous, peaceful fight to preserve the heart of your culture, the beauty of your land and the soul of your people. Your voices have been heard everywhere," Baez, 72, said in English and Turkish in a video uploaded to YouTube before starting the performance.
Accompanied by a drummer and a pianist, Baez sang the peace hymn, written by John Lennon, in her distinctive vibrato.
Earlier, lingustic and radical political thinker Noam Chomsky expressed his support for the protesters, who have started to call themselves "Çhapullers" after Erdogan described demonstrators as "capulcu" ("looters").
"Everywhere is Taksim, everywhere is resistance," he said. "What's taking place in the streets of Istanbul and other Turkish cities is first of all an inspiring illustration of what the general population can do to combat repression [and] violence, along with far-reaching plans to change the societies and undermine decent human survival in the interest of business and corporate structures."
In a written statement released on 1 June, Chomsky said: "I would like to join Amnesty International and others who defend basic human rights in condemning the brutal measures of the state authorities in response to the peaceful protests in Taksim in Central Istanbul."
"The reports of the past few days are reminiscent of some of the most shameful moments of Turkish history, which, it seemed, had been relegated to the past during the progress of the past years that has been welcomed and praised by all of us who wish the best for Turkey and its people," he added.
Also American singer and poet Patti Smith joined the 'capulchu' movement with a picture of support posted on Twitter.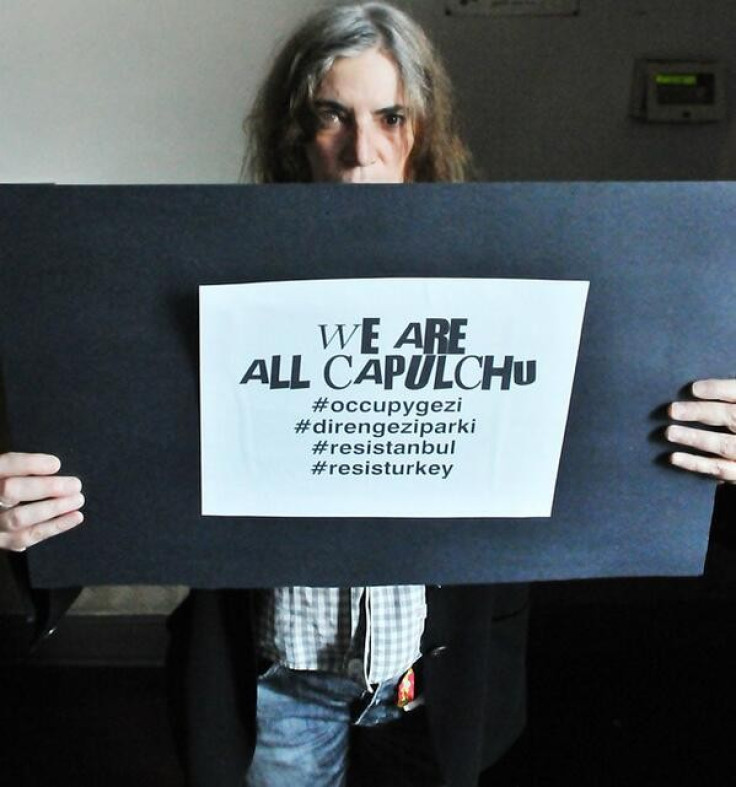 © Copyright IBTimes 2023. All rights reserved.