Footage has emerged of a young boy firing a rocket propelled grenade (RPG) on a Libyan beach, as weapons taken from Muammar Gaddafi's stockpiles are openly traded on social media.
In the footage, two adults encourage the boy who fires the weapon.
The BBC reports that the men have Libyan accents. Speculation on social media sites identifies the the beach as being in the Sirte area, the birthplace of Gaddafi, which was reduced to rubble during ferocious fighting during the country's 2011 civil war.
During the war, Libya was flooded with weapons as rebels looted government forces' stockpiles.
Since then, the country has descended into anarchy, with families arming themselves to protect themselves from violent militias.
Today, the UK embassy pulled out of the country, as militias battled in the streets of the capital, Tripoli.
"Since the revolution almost every household has a gun," says Libyan journalist Hassan Morajea. "I went to one friend's house and his five-and-a-half-year-old brother came out with a pistol in his hand."
According to a recent UN report, guns from the region are believed to have been exported, fuelling conflict in other regions of the Middle East, including Syria and Iraq and ending up in the hands of Boko Haram militants in Nigeria.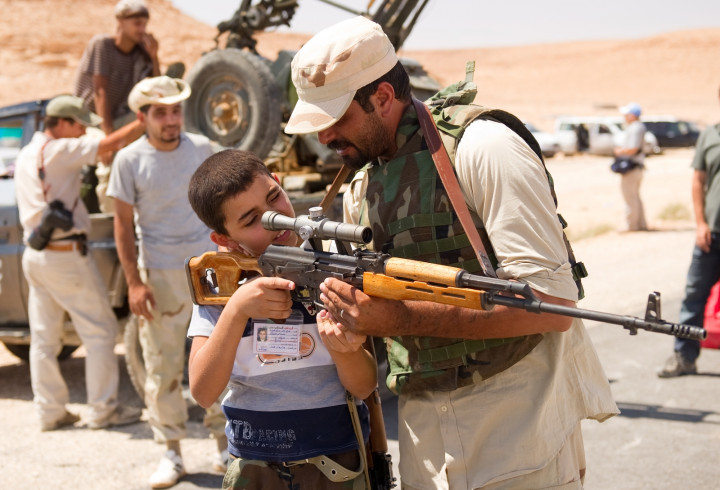 The Libyan government estimates that there are currently 15 million weapons circulating within the country, and Vocativ reports that many are being openly traded on social media, including Facebook. Customers haggling for prices in with account holders based in the country.
"Everyone has to be armed. We don't trust the militias, we don't trust the government, we don't trust anyone," university student Ahmed Klisel, AK-47 in hand, told the website. "It's really easy to obtain weapons in Libya. An AK-47 is a necessity in every household. More households have more than one. Or they have an AK-47 and a few pistols, handguns."
Kalashnikov assault rifles are reportedly swapping hands for $1,400 (£830), while RPGs cost about $5,000 (£2,975).
In Tripoli's open air fish market, stalls are now set up selling pistols rifles and semi-automatic weapons.
Abdul Rahman AlAgeli, a security coordinator in the Libyan prime minister's office, told Fox News recently that the government is "effectively drowning" and that authorities have "not demonstrated any tangible vision" for demobilizing and disarming militias.