It has been a while coming, but Usain Bolt is now poised to carry out his dream of becoming a fully-fledged footballer. The fastest man alive left athletics behind last summer having illuminated the sport like no other for the last 10 years, vowing to make good on his promise to swap the track for the football pitch.
That day has now come. "I've just signed for a football team. Find out who it is on Tuesday 27 February," was Bolt's cryptic message on Sunday [25 February] evening.
While there is the question as to what a 31-year-old who has never played the game can offer to a club competing professionally, the commercial value of his arrival could be staggering. IBTimes UK considers some of the clubs who could be unveiling the sprint legend as their next signing.
Borussia Dortmund
Bolt's links with the Bundesliga giants initially emerged in an interview with the Guardian in November 2016 when he revealed he had plans in place to start training with the club once he had called time on his track career.
Dortmund lapped up his comments, with CEO Hans-Joachim Watzke insisting the move was not a publicity stunt. Puma, long-term sponsors of both Bolt and Dortmund, might just have had the biggest role in facilitating the arrangement with Bjorn Gulden, CEO of the sportswear giants sitting on the club board, passing on Bolt's intentions to join them in training to the powers that be at the Westfalenstadion.
Puma even presented Bolt with his own custom boots for the trial – which he says will take place in March, having recovered from the hamstring tear that saw his final ever race end in heartbreak at the World Championships in London last August.
A trial is one thing, but offering the eight-time Olympic gold medal winner a deal straight off that bat seems a tad unlikely.
Mamelodi Sundowns
While Bolt is still waiting for his trial at Dortmund, he has already paid a visit to South African side Mamelodi Sundowns. The Jamaican spent time at the club at the end of January, with theteam tweeting video and pictures of the superstar taking part in a training session they christened #SchoolofSpeed. Sundowns, who lead the South African Premier division by four points, retweeted Bolt's personal message about his imminent move and having signed a kit sponsorship deal with Puma for the 2017-18 season, all the pieces could be in place.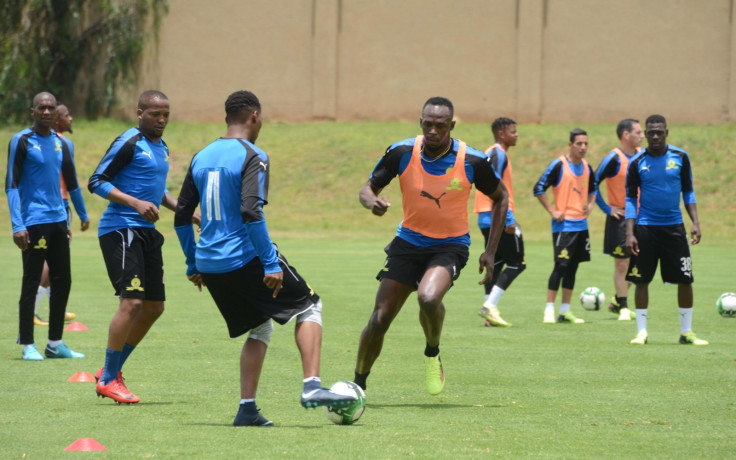 A club in the United States?
The glamour of football in the United States could be right up Bolt's street. David Beckham's Major League Soccer Franchise in Miami has already piqued his interest, with the 11-time world champion eager for a chance to impress the former Manchester United icon. "If you need a striker, I'm the guy. If you need goals, I'm the guy. I got you," was his message for Becks at the end of last year, but with the Miami project not set to officially launch until 2020, Bolt needs something else in the meantime.
If he is looking for a club state-side, there are plenty of other glamour options. Las Vegas Lights, anyone? Sin City's own franchise will start competing this year in the second-tier of America's football structure, the United Soccer League. A partnership with the iconic Freddy Adu awaits.
Harbour View FC
According to Loop Jamaica, Bolt has also spent a bit of time training with the little-known side back in his homeland. The 11-time world champion is said to be close friends with Harbour View head coach and former Bolton Wanderers favourite Ricardo Gardner, but Bolt, and the people around him, might have their eye on a more high-profile move, however.