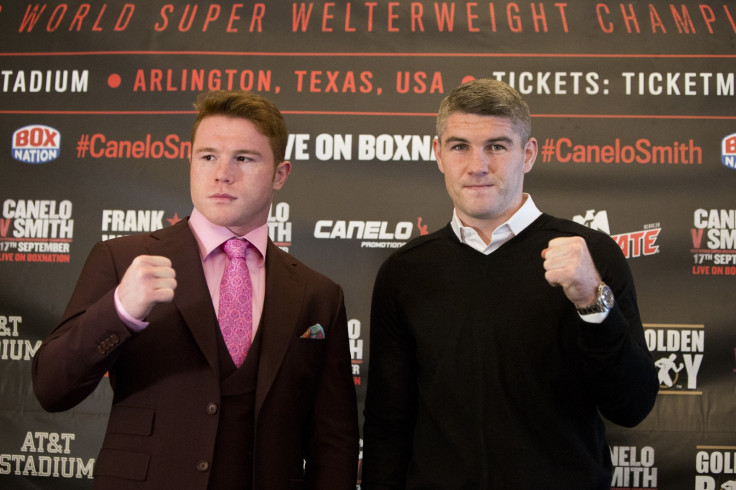 Liam Smith will not review Saul 'Canelo' Alvarez's knock-out victory over Amir Khan in preparation for his WBO world super welterweight title fight with the Mexican on 17 September. The Liverpool-born boxer faces the fight of his career in Dallas, with Alvarez dropping down to 154lbs for the bout.
Alvarez made short work of Khan in their fight in Las Vegas in May, knocking the 29-year-old down in the fifth round, and will start the bout as the favourite to become a three-weight world champion and move on to a much-hyped fight with Gennady Golovkin. But Smith, as a natural middleweight, is expected to be more durable than his fellow Brit.
Having previously sparred with Khan, Smith knows too well the size comparison between the pair and suggests that Alvarez's easy win will provide no reference point for him between now and the fight later in the year. The 27-year-old aims to show more attacking intent than Khan and attempt to rock the much-fancied Alvarez.
"I spared with Amir myself and from my point of view I thought 'you're tiny'," Smith, whose promoter Frank Warren had attempted to broker a deal to fight Khan, told reporters on the London leg of their media tour. "He was a 147lbs blown up to 155lbs and it was always a case in that fight of 'can Amir get through it?' That's all I'm taking. I won't watch the Amir Khan fight once rom now to when I fight.
"I think Amir boxed very well but it was in parts, he was landing but he was always the back-foot boxer. He didn't really force anything and it was like he was trying to rob the fight rather than win the fight. That's why I won't watch that fight. It was always a case of when, not if. Amir did do well but he was never going to rob the fight like that, he was too small. I've got a very good chin and I know that first hand."
One sacrifice Smith has already had to make in preparation for the clash is giving up playing amateur football between now and the September bout. The Liverpudlian features for West Cheshire League side Newton and District Sunday League team Seymour each weekend but has given up pre-season training and the start of the new campaign in order to commit to preparing for Alvarez.
"The only reason I've packed it in is I've played football on the Saturday before," he added. "The world title ones I stopped four weeks before. This one I've not kicked a ball, I haven't gone to pre-season. I've never had to ring Frank [Warren] and say I've done my ankle, or go to [trainer] Joe [Gallagher] that I can't spar, I've hurt my groin. I've had the rub of the green, I've been lucky.
"Now we've got the big one we're been praying for I'll probably go over on my ankle or do something so I would never risk that now, until September. This is the longest period I've not kicked a ball since the end of last season."