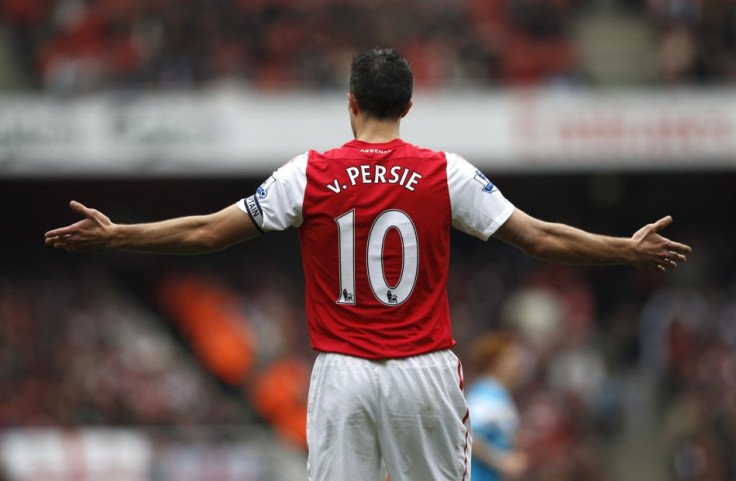 BBC Football pundit Garth Crooks has warned Arsenal manager Arsene Wenger to tie Robin Van Persie to a new long term contract as soon as possible or risk losing the striker to Barcelona.
The Dutchman has been one of the standout performers in the Premier League thus far and the catalyst behind Arsenal's hugely impressive revival. Van Persie has scored or assisted 40 Premier League goals in 2011 which is more than many teams have mustered collectively in the same period yet talks over a new deal have been put on hold.
Crooks suggests the Arsenal talisman's form makes him one of the most desirable centre-forwards in world football and intimates Arsene Wenger must do all he can to retain the services of the Emirates hero. Having lost Cesc Fabregas and Samir Nasri in the summer, Crooks suggests some of Europe's elite clubs, most notably Barcelona, will inevitably make endeavours to sign the Holland international for as long as his contract remains unsigned.
Barcelona famously embarked on a lengthy pursuit of Cesc Fabregas that finally came to fruition when the World Cup winning Spaniard ended his eight-year association with Arsenal in the summer by returning to his boyhood club. Crooks suggests Arsenal's new talisman is sure to draw similar unwelcome attention should he decide not to extend his career at the Emirates.
"Van the man continues to pull Arsenal's strings." Crooks told the BBC.
"In a game where Wigan spent most of the time chasing shadows, Arsenal boss Arsene Wenger must stay awake half the night wondering what will happen if his Dutch diamond gets injured.
"Frankly, I would be far more concerned about getting him to sign a new contract quickly. Otherwise I can hear cries of Barca Barca Barca!"
Arsenal chairman Peter Hill-Wood confirmed last month that Van Persie had requested a delay in beginning contract talks until the end of the season.
"He doesn't want to talk about it at the moment and we are not troubling him," The Arsenal chairman told the Daily Star last month.
"I think we will approach him near the end of the season.
"But we obviously hope that he will sign a new contract - I don't see why he should not. I can't believe he is unhappy with us."