FIFA President Sepp Blatter has criticised AC Milan midfielder Kevin Prince-Boateng for walking off the pitch when targeted by racists. The 25-year-old German was subject to racist chants when the Serie A side played lower division Italian club Pro Patria in a recent friendly.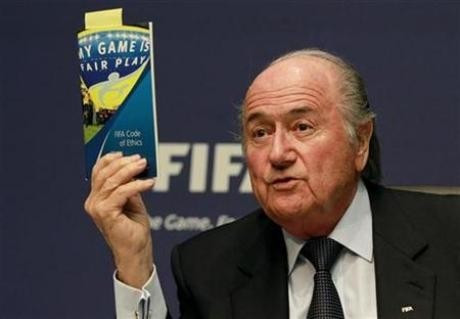 "Walk off? No. I don't think that is the solution. The Italian federation is yet to provide FIFA with the report detailing what exactly has happened. Don't think you can run away, because eventually you can run away if you lose a match. This issue is a very touchy subject, but I repeat there is zero tolerance of racism in the stadium; we have to go against that. The only solution is to be very harsh with the sanctions - and the sanctions must be a deduction of points or something similar," he said.
Blatter's comments came after a statement from Tony Higgins, the anti-racism spokesman for FifPro (the international footballers' union). The association has confirmed they support Boateng's action and stressed on the need to act immediately to erase racism from football.
The statement, on the organisation's Web site, read:
"FIFPro fully understands and supports the actions of Kevin-Prince Boateng and his teammates. It is sad and disappointing that these players had to leave the pitch due to the behaviour of a small group of so-called fans. But we have to draw a line."
The spectre of racism continues to haunt football, with explosive incidents like those involving Chelsea defender John Terry and QPR's Anton Ferdinand and Liverpool striker Luis Suarez and Manchester United left back Patrice Evra examples.
And then there was the problem in Serbia, when sections of the crowd at an U21 international between England and the hosts targeted Tottenham left back Danny Rose. The 22-year-old (on loan to Sunderland) was subsequently red-carded for his violent reaction.
However, the Serbian FA was then fined only £65,000, a sum that has since been criticised and contested.
Finally, in addition to FifPro, Blatter's comments have also irked the Football Against Racism in Europe (FARE) network, for whom the executive director, Piara Powar, was quoted as saying Blatter was misinformed and misguided.
"We disagree entirely with the idea that Kevin-Prince Boateng ran away from the Milan match in which he was subjected to racial abuse. It's a nonsensical suggestion," he said, "What does Sepp Blatter know about what it is to be abused or excluded because you are an ethic minority, and what might be the right or wrong way to respond?"