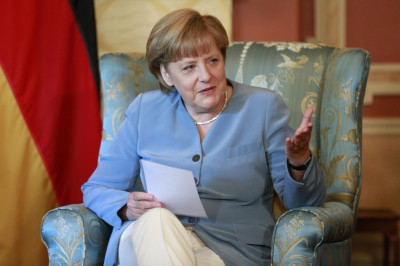 German Chancellor Angela Merkel tops Forbes magazine's list of most powerful women, the second time in a row; the list includes politicians, businesswomen, leaders and celebrities from the media and entertainment industries.
The resolve of Merkel in handling the eurozone debt crisis and her influence in the European Union were considered by the publishers of ForbesWoman to rank her number one in the list for a second consecutive time.
The top ten slots are shared by more or less the same personalities from the 2011 list with the exception of some improving their ranking and some losing out.
US Secretary of State Hillary Clinton maintains her second position in the list of 100 most powerful women followed by Brazilian President Dilma Rousseff.
Forbes magazine compiled the list taking into account the contributions of each of the personalities in different fields such as policymaking, entertainment, technology and nonprofit organisations.
The rankings were done considering their influence, financial stability (the amount of money they control or earn) and media presence.
"These power women exert influence in very different ways and to very different ends, and all with very different impacts on the global community," said Moira Forbes, president and publisher of ForbesWoman.
Clinton has been praised for her handling of the US administration's embarrassing situations following the release of secret documents by WikiLeaks whereas Rousseff has been recognised for her leadership of one of the leading emerging economies in the world and approval ratings in her own country.
Sonia Gandhi, president of the Indian National Congress, which heads the ruling coalition in India, has improved her ranking one notch higher at sixth in the list. US First Lady Michelle Obama takes the seventh position.
The Forbes list includes women personalities from 28 countries with an average age of 55.
Newcomers in the list include actress and performer Jennifer Lopez and billionaire philanthropist and widow of Apple founder Steve Jobs, Laurene Powell Jobs, at the 38th and 49th positions respectively.
Queen Elizabeth II is ranked 26th.
Take a look at the top ten powerful women in the Forbes list: