Ford Mustang. Five litre. V8. Convertible.
In the entire automotive dictionary there is surely no collection of words to match the heartstring-tugging emotion of that little line-up. It's enough to make grown men go weak at the knees and children wide-eyed with excitement. A Ford Mustang V8 convertible must be one of the strongest answers it's possible to give to the question: "So, what are you driving?" Infinitely cooler than an Audi or BMW and so much more interesting than cars costing five times as much.
Not that Mustangs represent (or have ever been close to representing) the best cars on the road, or the prettiest to look at or most exciting to drive, but they have always exuded an enormous, engaging character which is impossible to resist. But getting a Mustang in the UK has never been easy. Ford doesn't sell them through the dealership network and even if it did, they have always been left-hand-drive, making drive-throughs tricky and car park ticket barriers impossible.
Until now, that is, because the new Ford Mustang is finally being sold by UK dealers alongside Fiestas and Mondeos and, for the first time in 50 years, the steering wheel is on the right.
Uncle Sam has got himself a passport, a Nectar card and knows what a Wetherspoons is, but is he, is the Mustang, a car so brutishly, unapologetically American, finally welcome on our roads?
---
The Mustang makes its presence known immediately, but much of its imposing size is down to clever design. It's 160mm longer than a BMW 3-Series but just 10mm wider. Having a roof line 48mm lower and an enormous, high bonnet makes the Mustang appear much bigger than it really is.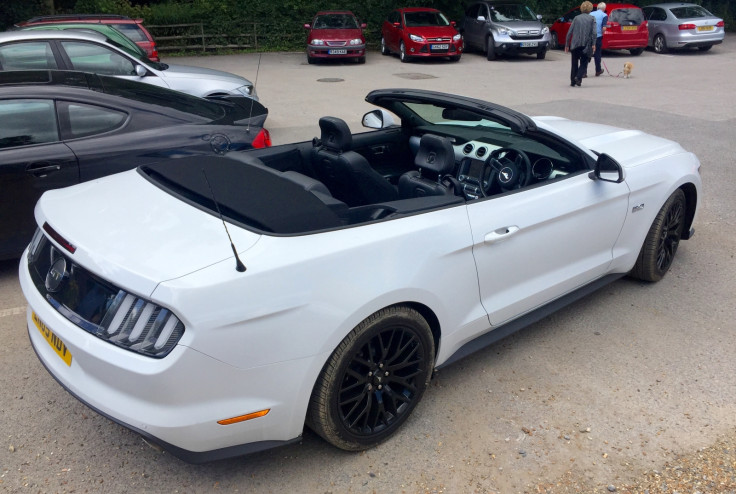 Knowing the figures doesn't make it any less imposing though. The big V8 rumbles into life and, although never quite as loud from the cabin as you might hope, emits the most gorgeous noise. It is sonorous and musical throughout the rev range and makes you want to use second and third gear exclusively, especially in town where pedestrians and other drivers look, point and smile in a way I've never seen before.
Seriously. Drive a Ferrari in town and all you get is a bloke shouting at you to "give it a rev", but take the Mustang and everyone looks. The car received so much appreciation that my passengers said they felt like celebrities. And so they might, because the Mustang's unique styling is enough to make anyone feel like a star the moment they get behind the wheel. The great looks also trick people into thinking the Mustang costs much, much more than it actually does.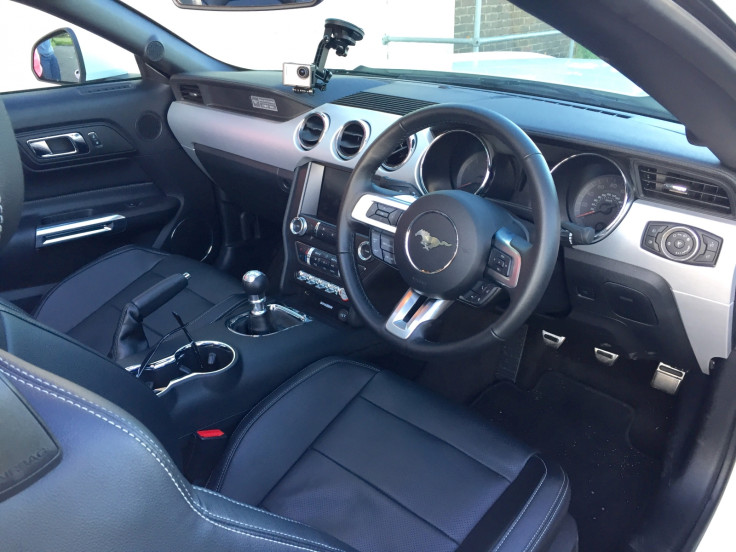 The car I reviewed is £40,330 ($53,500), but the Mustang range begins at just £30,995 for the hardtop with the same 2.4-litre EcoBoost engine used by the Ford Focus RS. The V8 (which is absolutely the one you should get) starts at £34,995. "My" car received guesses of between £60,000 and £80,000.
That lower-than-expected price keeps itself very well hidden and only really comes to the fore when you examine the interior. The metallic dashboard details are all plastic and the air vents feel a bit flimsy when you open and close them. That's about it though; what would otherwise be seen as a fairly cheap interior is carried through on its personality. Details like the "Mustang: Since 1964" badge and a speedometer labelling your speed as "Ground Speed" give the cabin a sense of occasion.
That feeling of being centre of attention never really goes away, as the Mustang turns every journey into a piece of live theatre. People stop and stare; van drivers beep and wave (politely, honest...), and fellow Mustang owners flash their lights in appreciation. It's a beautiful thing to experience, this outpouring of love towards a car stronger and more universal than anything I've ever experienced, Ferrari and Rolls-Royce included.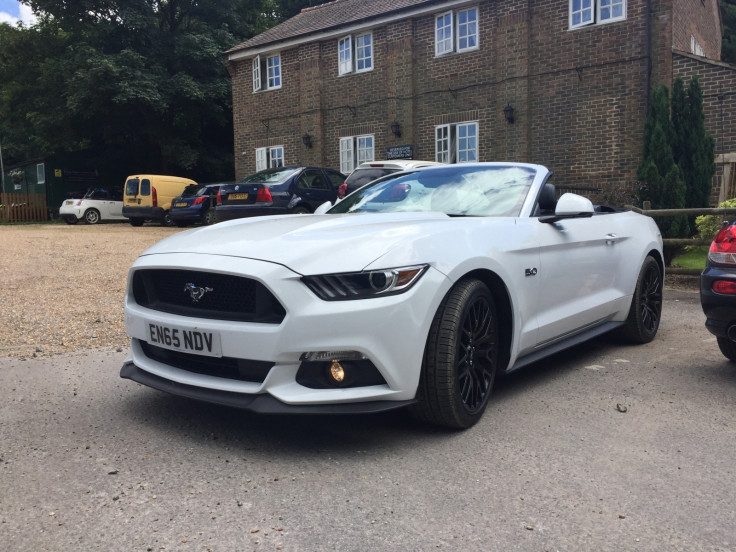 Press on and that big V8 wakes up, the exhaust note tickling your ears with a soundtrack lifted straight out of Hollywood. The Mustang makes you feel like Steve McQueen every time you drive it but, although the soft, wayward handling from Mustangs of old has been honed and tightened, this still isn't a car for hustling along a country lane; instead, it is much more at home cruising along the motorway with the roof down.
Here the Mustang is happiest, taking its time and making you instinctively smile whenever you brush the accelerator. There might be 415 horsepower under your right foot, producing a zero-to-60mph time of just over five seconds and a top speed of 155mph, but it almost doesn't matter. Traffic light sprints still exhilarate, but the real joy in driving a V8 Mustang comes from the knowledge that you are driving a bona fide motoring legend.
As for practicality, the back seats are ok if you're no more than 5ft 6in while boot space is generous enough considering the soft top robs a chunk of it. The Mustang is a doddle to drive around town and in traffic once you've got used to the size, but the clutch can feel heavy after a while and the stiff gear stick gives your left arm a workout.
The car can be driven every day and in all weather conditions, but take a look at the economy and your wallet will start to cry. I averaged just 17 miles per gallon over four days of town, country and motorway driving. Ford claims the Ecoboost version manages 35MPG (up from a claimed 20 for the V8), but swapping to the smaller engine would be nothing short of sacrilege.
Our verdict
Ford Mustang Convertible 5.0 V8
A slab of American culture as subtle as a punch in the face, the Mustang V8 convertible is huge fun and makes every drive feel like an iconic Hollywood moment. It produces an evocative soundtrack and has genuine sports car performance while being approachable and not as intimidating as the styling suggests. It is also amazing value for money.
The brashness of it all won't be for everyone and I feel I would eventually tire of the attention, especially when it's a rainy November evening and I just want to get home without causing a scene.
British social awkwardness aside, the Mustang convertible is the perfect summer holiday car for when you just want to cruise to nowhere particular and enjoy the ride; for when driving for driving's sake is all you want to do.