Rain is set to literally rain on Donald Trump's parade as wet weather will move in for his inauguration in Washington.
According to ACCU weather, rain will begin to drift in just as Barack Obama and President-elect Trump travel together down Pennsylvania Avenue on Friday 20 January, with temperatures slightly above average for this time of year in Washington.
According to the National weather Service, there is a 90% chance of rain occurring at noon, the moment when the swearing in ceremony will take place.
AccuWeather Meteorologist Kyle Brown said: "There could be a couple of dry hours to begin Friday before rain moves in for much of the day.
"This warm air will remain in place for Friday and Saturday, with afternoon high temperatures well above normal."
Temperatures could hit around 50F (10C) later on in the afternoon, with Brown advising to take raincoats if you are attending the event but "ditch the heavy winter coats".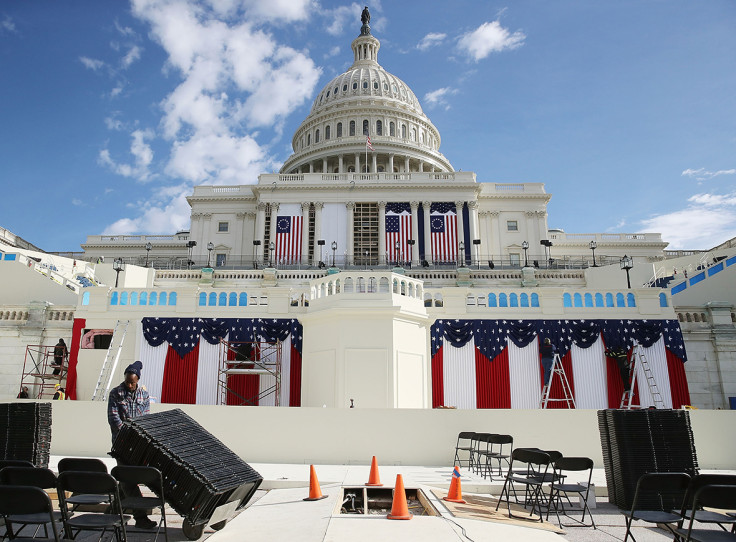 The Secret Service said they would be banning umbrellas ftom ticketed parts of the Mall during the inauguration. However, the National Park Service – caretakers of the Washington Monument – said they will be allowing smaller "Totes" style collapsible umbrellas on the parade route and the Mall, but no "long, non-collapsible umbrellas".
Weather.Com added in a forecast: "Washington DC will see rain and warmer-than-average temperatures Friday for the inauguration of Donald Trump as the 45th President of the United States.
"The culprit for the soggy weather conditions Friday is an approaching low-pressure system and its attendant cold front. Southerly winds ahead of that low may also propel Friday's high temperature to among the milder readings for a January Inauguration Day since they began in that month in 1937."