An India-based startup has developed the world's first commercially available smart shoes, capable of directing wearers through inbuilt vibrations.
Ducere Technologies, founded by Krispian Lawrence and Anirudh Sharma in 2011, will begin selling the Lechal shoes for around $100 (£60) in September.
The smart shoes give users directions by using haptic feedback to vibrate in order to indicate which way to turn. A corresponding app that uses Google Maps transmits the directions to the shoes via a Bluetooth connection.
Originally designed for blind or visually-impaired users, Lawrence and Sharma realised that the Lechal shoes could have broader commercial applications. The pair envision that cyclists, runners and even tourists could use the technology to navigate without having to check traditional maps or GPS directions on their smartphones.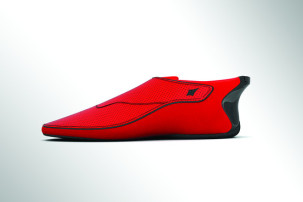 "The shoes are a natural extension of the human body," Krispian Lawrence, co-founder and chief executive of Ducere, told the Wall Street Journal. "You will leave your house without your watch or wristband, but you will never leave your house without your shoes."
For those not enamoured with the sleek red design, there is also a bluetooth-enabled removable insole option.
Ducere has already received orders for 25,000 pairs of Lechal shoes and insoles and is hoping to raise $5 million to further market the product. If successful, Ducere believes that it can shift 100,000 units by next March.