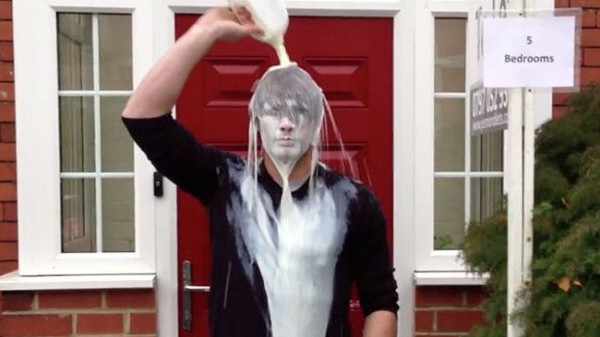 When "planking" swept out of Australia and took the world by storm, nobody thought that there could be any craze ridiculous enough to compete with it - until now.
A new student trend called milking is fast becoming the next planking after a video of men pouring milk over their heads went viral.
While planking encouraged people to produce photographs of themselves face down with stiffened arms and legs in ridiculous locations, "milkers" entertain their viewers by having a close shower with four-pint containers of milk in public places.
In the two-and-a-half minute YouTube clip, which is accompanied by House of Pain's 1992 Jump Around, the students are filmed standing in various locations including in bins, on posts and even outside Newcastle University.
The video has collected nearly 70,000 views in less than a week.
Tom Morris, 22, who was behind the video, told the Daily Mail: "We were just in our kitchen talking about doing it outside Starbucks and thought it would be really funny.
"We did that, uploaded the video to Facebook and got a load of likes. So then we thought "why not just make a video"?'
One viewer said: "I love this its Hilarious"
Another wrote: "Honestly, have they got nothing better to do with their lives? Mindless behaviour and a waste of milk and who clears up the mess?"
"Animals have died for these fools to parade their idiocy," another insisted.
Check out the video here: