Former boxing champion Jean Pascal has said that Nick Diaz is "not a real man or a fighter".
With many boxing and MMA crossover match-ups being discussed from Conor McGregor vs Floyd Mayweather, to light heavyweight contender Jimi Manuwa challenging David Haye, Pascal is the latest personality to call out a competitor, as he wants to prove that UFC fighters cannot box.
Pascal, who held the unified WBC, IBO and lineal light-heavyweight titles between 2009 and 2011, specifically targeted Diaz as the latter has been open to boxing professionally.
"Of course, because UFC fighters are already saying they can fight, they can box," the Haitian-Canadian told TMZ, when asked if he wanted to fight Diaz. "But I don't see that, and Nick Diaz talks a lot of trash. He's never had someone who can talk back to him like I can do."
"They claim they can fight. They claim they can box. I don't claim that I can go to the floor. But anyway, to go on the ground with other men, that's not my thing. I'd rather go on the ground with a woman. To go on the floor with a man...I'm sorry, that's not my thing."
The 34-year-old is not sure which round a potential fight with Diaz could finish in, but told the former welterweight contender to come out of "redneck" America and fight in a "real city like Montreal".
"Honestly I don't know (what round the fight would finish)," he added. "But I'm pretty sure that I can whip his ass. Because I'm a fighter. I'm not a UFC wrestler. I'm fighting with my fists."
"We're standing up and we've got boxing rules. Boxing is an art. I can tell Diaz to come out of your redneck country and fight me in a real city like Montreal. That s*** can be sold out.
"One thing I know is that Nick Diaz never held a real belt like this [pointing to his belts]. See that? You've never held a belt that people care about. That's what I'm talking about. And then they claim that they can beat a boxer?
"Come on guys. So stop talking s**t, let's do it like real men. Simple and easy, right? I'm pretty sure this guy stays quiet because he's a coward, he's not a real man. He's not a real fighter, he's not a real soldier."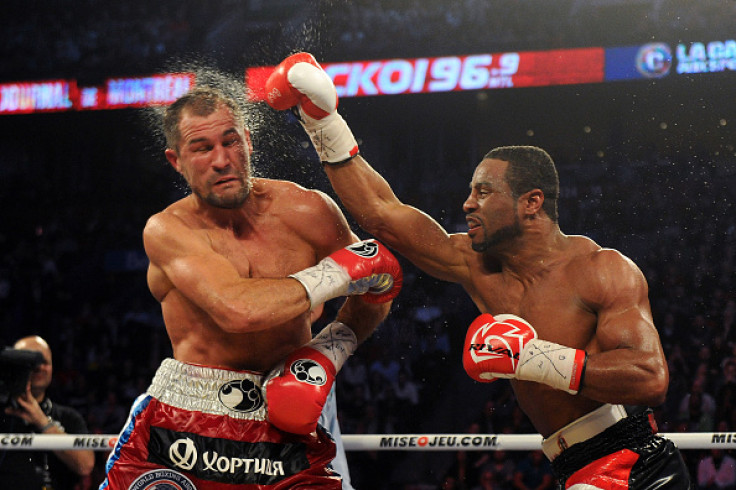 Diaz has not competed in the octagon since the no contest fight against Anderson Silva in January 2015. The 33-year-old was subsequently suspended for failing his post-fight drug test for marijuana metabolites until it was lifted in August 2016.
Diaz has reportedly been free to fight since December 2016, but has been turning down offers along with his brother according to UFC president Dana White.
Former lightweight champion Rafael Dos Anjos has expressed a desire to fight the former Strikeforce champion as well, although it looks like Diaz has no plans of fighting just yet.