Irish boxer Katie Taylor is expected to follow in the footsteps of Ultimate Fighting Championship star Ronda Rousey and become the first genuine superstar of women's boxing. The 30-year-old remains unbeaten in four fights after her points victory over Milena Koleva in Manchester and is being tipped for big things.
Rousey is regarded as the first women of the UFC with the American emerging from success at the Beijing 2008 Olympic Games to become a sensation in mixed martial arts. She became the first female to sign with the franchise after winning the bantamweight title in 2012. While the 30-year-old's future in the sport is uncertain after successive knock-out defeats to Holly Holm and Amanda Nunes she remains the poster girl for the sport.
While Rousey was beginning to dominate the UFC, the trajectory of Taylor's career was taking a similar path as she won Olympic gold at London 2012 – the first time women's boxing had been included at the Games. Her enormous profile in Ireland, earned by winning a combined 11 world and European titles, provides Taylor with a platform from which to go on and dominate professional women's boxing.
And cruiserweight world champion Tony Bellew expects Taylor to mirror the success of Rousey and become a pioneer for the sport. "I am a Katie Taylor fan," he told Sky Sports. "She's an absolute class act with the punches she throws and the variety in her shots. She is just the full package. She is a breath of fresh air and she is fantastic for the sport. She's not in it for the short haul she's in it for the long game, and when I see her, I'm looking at the Anthony Joshua of her weight division. She's going to be running this game real soon, she really is.
"She will become the face [of women's boxing] something like what we've seen with someone like Ronda Rousey in the UFC, but I think Ronda Rousey has done it over a short period. I believe someone like Katie Taylor is here for the long-haul. It's going to take somebody very, very special to dethrone her."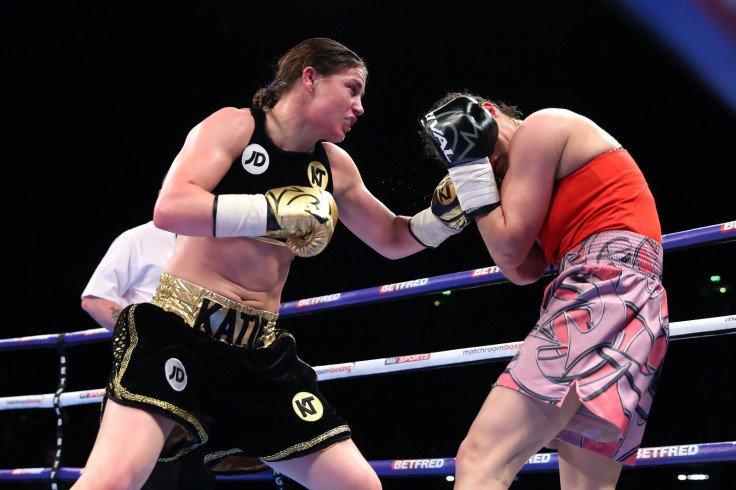 Taylor has previously spoken of her desire to emulate the success of Rousey and help raise the profile of women's boxing, which is dwarfed by the size of the men's sport. UFC events meanwhile see women achieve equal billing with men.
Meanwhile, already touted as the dominant figure in her field, Taylor could soon share a stage with Joshua. The Matchroom backed fighter is set for her fifth fight in as many months on the undercard of Joshua's heavyweight unification bout with Wladimir Klitschko on 29 April at Wembley Stadium. The supporting cast for the fight is due to be confirmed this week, but the opportunity would represent by far the biggest of Taylor's career.