France's former president, Nicolas Sarkozy, has come under fire for telling a group of Gabonese students opposed to their president-elect Ali Bongo to "go back to Gabon" after they interrupted one of his presidential campaign meetings. Bongo's family has been in power for nearly 50 years in the African nation, and was re-elected in elections marred by allegations of vote-rigging – being declared president until 2025.
Since early September, Sarkozy, who hopes to be elected in France's upcoming elections, has become the target of Gabonese protesters who accuse him of having supported Bongo's stay in power in previous contested elections in 2009.
On 3 September, Gabonese demonstrators staging a protest outside the Embassy of Gabon shouted: "Sarkozy, come and get Ali" in reference to Bongo. Less than a week later, supporters of the Gabonese opposition staging another demonstration in Paris were heard chanting: "Sarkozy, corrupted by Ali Bongo and Sassou (Nguesso, president-elect of Congo-Brazzaville).
On Wednesday 21 September, a group of a dozen young people from Gabon – who study in France and support defeated opposition leader Jean Ping, who lost to Bongo in last month's presidential election – interrupted Sarkozy's meeting in Marcq-en-Barœul (Calais), north of France.
As the French presidential hopeful was giving a speech in front of a thousand supporters, the Gabonese students walked in, holding their national flag and told the French politician, "Sarko, come and get Ali" in reference to Ali Bongo.
After hesitating for a few seconds, Sarkozy told the students: "This is France here, not Gabon. If you want to talk about Gabon, go back (to Gabon)!". The audience applauded and the Gabonese students were expelled from the meeting room by security agents.
This is the second incident of the sort this week. In Franconville (Val-d'Oise), a smaller group of Gabonese bearing the national flag also interrupted a meeting, chanting: "Sarkozy, come and get Ali Bongo".
Sarkozy's comments in Calais sparked a controversy in France and Gabon, where social media users have taken to Facebook and Twitter to vent their anger.
A social media user, who tweets under the pseudonym RaleurOrdinaire, reacted to the incident saying: "In a nutshell, the guy stirs sh*t up in Gabon by supporting a dictator, then tells Gabonese to go back there! What a bast**d!"
A Twitter user, Venus Miss, who wrote from Gabon: "Gabon cried tonight because of Sarkozy and his tyrant Ali" was echoed by Lionel Divounguy, also Gabonese, who stated: "@NicolasSarkozy Here it is Gabon, not Brafra, so come and get your monster back! #FreeGabon".
Referring to Sarkozy's sarcastic offer that the young Gabonese returned to Gabon, another Twitter user, Sevket Temiz, simply said: "And we invite you (Sarkozy) to shut up."
Gabon confirmed three people had been killed and 195 injured – 67 from security forces – following deadly clashes in the capital as citizens took to the streets earlier this month to call for the 27 August poll result to be cancelled.
AFP news agency, however, reported seven dead including a police officer, and some 1,000 arrested.
Corruption allegations against Sarkozy
At the source of these accusations are a number of unfounded claims surrounding arrangements dubbed 'Françafrique' - effectively encapsulating the close, negative economic and political links between France's political elite and businesses, and its former colonies in Africa.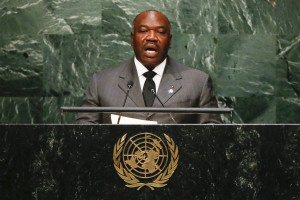 In 2011, Mike Jocktane, an ex-insider of the Bongo clan, alleged that the bribing of French leaders was an "open secret". He told French newspaper Liberation: "Everyone knew that when a French leader came to Gabon, he almost always left with a suitcase. The character of the regime was to cultivate everyone, regardless of their political affiliation, so as to obtain and maintain their support."
Jocktane further alleged that Sarkozy may have directly benefitted "from cash transfers to fund his (successful) 2007 campaign and resolve a situation" during the two elections rounds.
"Here (in Gabon) the nature of the regimes is to grease the palm of everyone, regardless of their political party, so that to get and keep their indulgence," Jocktane said.
In 2009, Sarkozy had congratulated Bongo's accession to power following his father Omar Bongo's death after 41 years in the top seat. Seven years down the line, however, Sarkozy has appeared silent over the result of the August disputed election, and ministers under the current government urged a recount of the votes after alleged vote-rigging.
France has close economic and political ties with the oil-rich country, which gained independence in 1960.