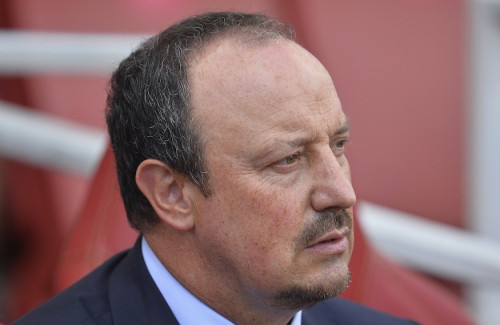 Marco Materazzi has hit back again at former Liverpool and Chelsea manager Rafael Benitez by calling the Spaniard a pig after Napoli lost 3-0 to Atalanta.
The Italian defender, who hung up his boots in 2011, has a bad relationship with Benitez following their time together at Inter Milan in 2010.
It is believed Materazzi put a lot of pressure on Inter officials to sack Benitez just six months after his arrival in Italy, and the two have been embroiled in a public spat ever since.
Materazzi has reopened the feud once again by criticising Benitez's measures and resorting to personal insults via his personal Twitter account (@iomatrix23).
"The same tactics, the same methods, the same bootlicking... We are starting to get to know you. Better late than never," wrote Materazzi, who also added an emoticon of a pig to his tweet.
Last year Materazzi, who has publicly praised Jose Mourinho several times, accused Benitez of removing pictures of the Portuguese boss from Inter's training ground during his tenure.
"If I was a club president, I'd never employ him [Benitez]" said Materazzi. "A great boss like Marcello Lippi or Mourinho knows how to get their demands across to a dressing room. Whereas Benítez, well he wanted to put them all in writing, 10 or 12 rules, like the Highway Code or being at school.
"At Inter's training centre there were photos on the wall of all the most successful past coaches, from Helenio Herrera to Roberto Mancini and Mourinho. Benítez had the ones of José taken down. With that gesture, he showed his character: that of a weak person."
Benitez responded by denying the allegations about the pictures and calling Materazzi " a liar."
"I want to be professional and respect people. But everyone knows him [Materazzi]. He cannot discredit anyone because everyone knows him. Forget about him," Benitez said.
The former Chelsea and Liverpool boss is currently third in Serie A at Napoli but he has struggled in the last three games, with two draws and one defeat.