Former Mexican president Vicente Fox in f-word outburst over Donald Trump's wall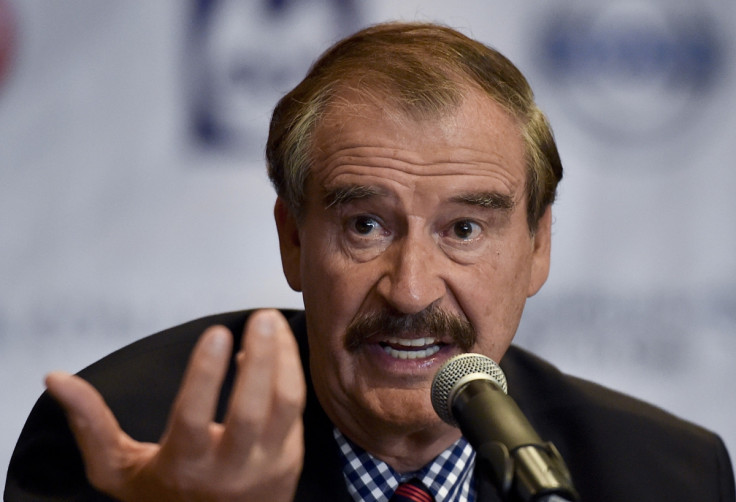 Former Mexican President Vicente Fox did not mince his words when discussing Republican presidential candidate Donald Trump in a recent interview with Univision and Fusion. In his interview with Jorge Ramos, Fox said he would not pay for Trump's border wall and questioned the support Trump received from Hispanic Republican voters in Nevada.
The former Mexican commander-in-chief said: "I'm not going to pay for that f***ing wall. He should pay for it. He's got the money," when asked about Trump's pledge to force Mexico to pay for wall along the US-Mexico border. Fox added that he is not afraid of the Republican frontrunner making it to the White House, but said he was concerned about the latest caucus in Nevada.
Early entrance polls claimed Trump won the support of over 44% of Hispanic caucus goers. "I'd like to know who those Hispanics are," Fox said, adding that those Hispanics are followers of a "false prophet".
"Please, you Hispanics, Latinos in the US, open your eyes. It's not to defend our race. Not to defend our creed. It's to defend the very same nation that is hosting you. This nation is going to fail if it goes into the hands of a crazy guy," Fox told Ramos. According to Fusion, Fox is not the first former Mexican president to publicly denounce Trump's border proposal. Former President Felipe Calderón told CNBC that there was no chance Mexico would pay for a "stupid wall."
Trump was quick to take to Twitter to denounce Fox's colourful language. "FMR PRES of Mexico, Vicente Fox horribly used the F word when discussing the wall. He must apologize! If I did that there would be a uproar!" he tweeted.
Despite his claims that he is gaining ground among Latino voters, Trump has earned the highest negative ratings among Hispanic voters of any of the major GOP contenders, a recent Washington Post-Univision News poll found. The poll, which was conducted 11-18 February, found that 80% of Hispanic voters have an unfavourable view of Trump.
The Washington Post noted that that includes more than 7-in-10 have a "very unfavourable" view of him.
In November 2015, Trump announced that Muslims in the US would have to register in a central database. When asked by a reporter how this policy differed from the Nazi's treatment of Jews, Trump replied, "You tell me."
© Copyright IBTimes 2023. All rights reserved.