One of Nato's most senior retired generals has warned that the West risks a nuclear war with Russia within a year if it does not boost its defences in the Baltic states amid increasing tension between Moscow and the alliance.
General Sir Richard Shirreff, who served as Nato's deputy supreme allied commander in Europe until 2014, said that the West should act to avert a "potential catastrophe" should Moscow target Estonia, Lithuania and Latvia.
He told the BBC Radio 4 programme Today on Wednesday (18 May): "The chilling fact is that because Russia hardwires nuclear thinking and capability to every aspect of their defence capability, this would be nuclear war.
"We need to judge President [Vladimir] Putin by his deeds not his words," he added. "He has invaded Georgia, he has invaded the Crimea, he has invaded Ukraine. He has used force and got away with it."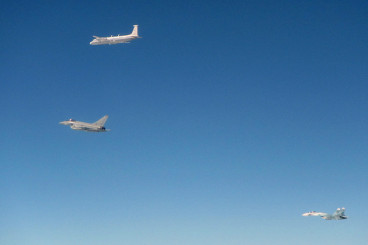 His comments come ahead of a release of his fictional book 2017: War with Russia and only days after an alliance missile defence system in Romania became operational.
The missile defence station at Deveselu in Romania will have SM-2 missile interceptors and will be formally merged into the Nato missile shield. Nato officials have also revealed that another facility would be ready in Poland in 2018.
In response, Russia said it would modernize a launch detection system in Crimea which would be able to detect hypersonic, ballistic and cruise missiles.
On 14 May, Putin slammed the Nato programme which US officials say will target the threat from Iran. The Russian president said: "The threat is gone, but the creation of the missile defence system is continuing."
On 17 May, RAF typhoon jets were scrambled to intercept Russian planes over the Baltic for the second time in less than a week. The jets were initially shadowing two Su-27 Flanker fighters and an IL-20 "Coot-A" Reconnaissance aircraft close to Estonian airspace, when two more Su-27s were detected.