Sir John Major has launched a scathing attack on Prime Minister Theresa May's government and her handling of Britain's departure from the European Union.
The Conservative politician is the second former prime minister - after Tony Blair - to speak out against Brexit following last year's referendum, but the first from May's own party to be so critical.
He accused May's government of deploying "cheap rhetoric" and misleading the public about what to expect, stating that the degradation of the NHS and the welfare state were likely outcomes of departing the EU.
Speaking at Chatham House in London on Monday (27 February), he said: "The referendum was one of the most divisive votes in British history.
"I have watched with growing concern as the British people have been led to expect a future that seems to be unreal and optimistic.
"Obstacles are brushed aside as of no consequence, whilst opportunities are inflated beyond any reasonable expectation of delivery."
He added that Brexit-supporting MPs who assume that Europe will "concede all we wish for" are "extraordinarily naive".
Major, who was prime minister from 1990 to 1997, also urged May's government to be "realistic about the timescale and complexity of the huge undertaking that lies ahead" while criticising May's combative approach.
"In my own experience, the most successful results are obtained when talks are conducted with goodwill," he said. "It is much easier to reach agreement with a friend than a quarrelsome neighbour.
"Behind the diplomatic civilities, the atmosphere is already sour. A little more charm, and a lot less cheap rhetoric, would do much to protect the UK's interests."
The 73-year-old also took issue with Chancellor Philip Hammond's comments to a German newspaper in January, which hinted that Britain could become a tax haven to protect its interests.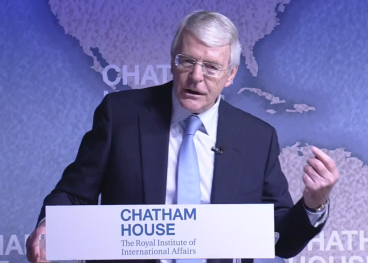 "There is a choice to be made, a price to be paid," Major added. "We cannot move to a radical enterprise economy without moving away from a welfare state.
"Such a direction of policy, once understood by the public, would never command support. It would make all previous rows over social policy seem a minor distraction."
Pro-Brexit MPs have reacted angrily to the speech, which comes as the House of Lords may seek to make amendments to May's Brexit bill.
Iain Duncan Smith told the Telegraph: "It's a rather bitter, angry speech that doesn't tell you much about the referendum or the prime minister.
"It mostly tells you about Sir John. It's the bitter speech of an angry man. It has nothing to do with where we're going. It's a re-fighting of the referendum."