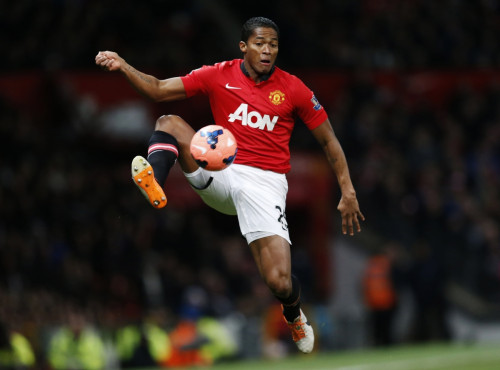 Former Manchester United trainee Robbie Savage says David Moyes should replace 12 of his current first team squad in order to return the fear-factor back to Old Trafford.
Defeat to Sunderland last Tuesday was United's third in a row in 2014 under David Moyes and has sparked suggestions the club are losing their reputation as the most dominant force in English football.
Moyes is hoping to add to his squad in the next two transfer windows and the United boss has reportedly been handed £200m in order to oversee an overhaul of the squad.
And Savage has identified which United players Moyes could do without, including a dozen first team players, 10 of which won the league title under Sir Alex Ferguson in his final campaign in charge.
Defenders Chris Smalling, Alexander Buttner, Fabio and Rio Ferdinand, midfielders Marouane Fellaini, Anderson, Ryan Giggs, Nani, Ashley Young, Tom Cleverley and Antonio Valencia as well as striker Javier Hernandez should all be shown the exit door at United according to the ex-Wales international.
"I am not convinced by [Smalling]," Savage told BBC Sport. "His passing is not good enough for a Manchester United player. He should go.
"I'm surprised [Buttner} is there in the first place. He is not good enough to be a Manchester United player and has not played enough games for that reason.
"[Fabio] is not as good as his brother Rafael. He did not do it at QPR, so what chance has he got of doing it at a club like Manchester United? Not at the level he needs to be at and has to go.
"[Rio] has been one of the best central defenders in the Premier League and a great servant for Manchester United, but injuries and age have caught up with him. There has to be a role for him at the club, but not as a starting member of the first team. I would suggest he joins the coaching staff.
"I am not sure what [Fellaini's] best position is. He is not good enough to play for United in the middle of the park and not quick enough or dynamic enough to play off the front. He should go.
"[Ryan Giggs] is the best Premier League player ever, but if they are going to rely on a 41-year-old to produce the goods next season, it does not say a lot for the rest of the midfielders. He will stay on as a coach and possibly be the next manager, but, playing-wise, he should go.
"I'm surprised Nani got a new five-year contract. He has not scored or created a goal in eight league games this season. He's just too inconsistent.
"At times, [Young] looks great and scores some great goals, but he's only completed one league game this season. That says to me he is inconsistent, so what is he in the team for? To produce goals? He has not been doing that enough.
"[Cleverley] has played in all but four of United's league games this season, but I am not sure what he contributes. Does he pass it well? Does he score goals? Does he tackle? What does he actually do? He plays for England and I think he is good, but I am not sure what he contributes and, for me, is not a Manchester United player.
"I am not sure [Valencia] has ever recovered from his injuries. He had a blistering yard of pace in the past, but I think he has lost it and does not get around the full-back enough.
"[Hernandez] does not perform well consistently enough when he starts games. He is a good impact player but is no Ole Gunnar Solskjaer."