Leicester City's surprising Premier League win certainly seemed outlandish back at the beginning of the 2015/16 football season, when bookmakers were quoting odds of 5000-to-1 on Leicester City finishing top. But this fairy tale is sure to inspire even more interest in Premier League football next season, when everyone will want to know: can the seemingly impossible feat be repeated?
A Great Time to be Promoted to the EPL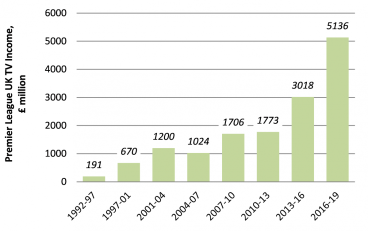 Burnley has just secured promotion back to the Premier League, repeating their feat of 2014. Their timing couldn't be better.
Why? Because next season promises to be a bumper year for the 20 league teams, as they will be dividing up a TV deal which is now worth a total of £5.1bn ($7.4bn, €6.5bn) over the next three seasons, up 70% from the existing TV deal struck by Sky and BT (see chart 1).
This does not even include the estimated £3bn+ that the English Premier League will also collect from selling international TV rights all over the world.
Four ways for an investor to surf the UK football frenzy
I see four ways in which investors can get exposure to the seemingly inexorable increase in the global popularity of the English Premier League.
1) Invest directly in a football club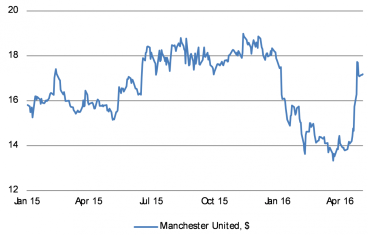 In the English Premier League, the obvious candidate is Manchester United, which is actually listed on the New York Stock Exchange (code: MANU) as the controlling Glazer family are from the US. Through most of this year, Manchester United's share price has languished along with the team's performance, but latterly it has picked up over 20% (chart 2).
Other European football clubs that are listed include Celtic (UK Code: CCP), Borussia Dortmund in Germany and Lazio in Italy.
2) Buy kit suppliers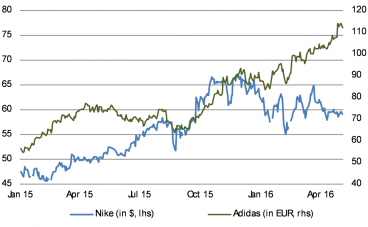 Sportswear manufacturers have been very popular and have enjoyed strong growth – they are fast becoming the luxury brands of choice for the millennial generation.
The biggest names in football shirts (note that Chelsea are to sell next season's shirts at a cool £90 each) include Nike (listed in the US, code NKE), Adidas (listed in Germany, code ADS) and Puma (owned by the French company Kering, code KER). Adidas in particular has been a stellar stock market performer, following very strong profit growth as their eponymous brand seems to go from strength to strength (chart 3).
3) Buy sportswear retailers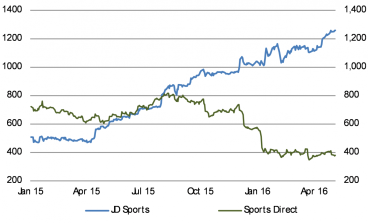 Sportswear chains JD Sports (UK code: JD.) and Sports Direct (UK code: SPD) are the two largest presences on the UK high street, selling football kit, boots and other football-related paraphernalia. They should both receive a boost from this summer's European Championship, being held in France. The success story over the last year has been JD Sports, while Sports Direct has seen its share-price halve after hitting a number of difficulties, hurting profits (chart 4).
4) Buy the TV broadcasters with football rights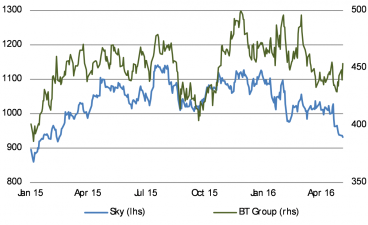 These are Sky (UK code: SKY) and BT (UK code: BT.A), who currently share UK TV rights to the Premier League and will continue to share the rights under the new deal next season. But remember, they will be paying £1.7bn between them for each year for the next 3 years just for the right to broadcast Premier League matches, 70% more than previously.
This will inevitably hurt their profits, unless they manage to pass this extra cost onto their pay TV subscribers... For now, investors are perhaps not convinced that sky will manage to do this, hence the weakness in Sky's share price this year (chart 5).

Bottom line
There are a number of listed companies for investors to choose from that have substantial direct exposure to the success of the English Premier League.
Personally, I am less keen on directly investing in football clubs – I prefer to leave that to the multi-millionaires of this world. Instead, I would prefer exposure to branded sportswear manufacturers and to sportswear shop chains, particularly in the lead-up to the European Championships (which kicks off on 10 June).