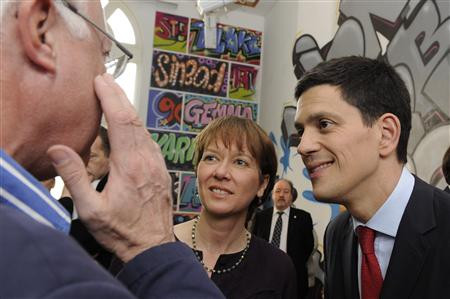 Britain's fourth largest trade union has come out in favour of David Miliband in the race to become leader of the Labour Party, it is the first trade union to throw its support behind any of the five candidates.
The candidates are currently able to receive "supporting nominations" from MEPs, Constituency Labour Parties, Trade Unions and Socialist Societies.
Mr Miliband has received backing from USDAW, the Union of Shop, Distributive and Allied Workers, which has over 383,000 members and represents workers in a broad range of occupations from retailing to call centres and from factories to insurance agents.
USDAW is one of the 14 Trades Unions officially affiliated to the Labour Party and its nomination will add to the impression that Mr Miliband is the frontrunner in the race. Despite USDAW's backing it is believed that much trade union support will go towards Ed Balls and perhaps to a lesser extent Diane Abbott.
Speaking of the nomination John Hannett, General Secretary of USDAW, said, "USDAW is backing David because we believe he is the best choice for our members, the best choice for Labour and the best choice for Britain. David is a long-time friend of USDAW and is someone who really understands the needs and aspirations of our members. He supports our campaigns against violence, threats and abuse against shopworkers and for the extension of workplace rights to help working parents.
David Miliband, said, "I am honoured and delighted to have secured the support of USDAW, the UK's fourth biggest trade union which represents hundreds of thousands of members in retail and many other private sector trades and workplaces."
So far the nominations for each of the candidates are as follows:
Diane Abbott
MPs: 33
MEPs: 0
CLPs: 3
TUs: 0
SSs: 0
Ed Balls
MPs: 33
MEPs: 0
CLPs: 1
TUs: 0
SSs: 0
Andy Burnham
MPs: 33
MEPs: 1
CLPs: 2
TUs: 0
SSs: 0
David Miliband
MPs: 81
MEPs: 4
CLPs: 9
TUs: 1
SSs: 0
Ed Miliband
MPs: 63
MEPs: 3
CLPs: 10
TUs: 0
SSs: 0
Still to declare
MPs: 0
MEPs: 5
CLPs: 610
TUs: 13
SSs: 15