George Osborne's father-in-law has ignited a row by calling for fracking to begin in "desolate" north-east England.
Lord Howell of Guildford said the hydraulic rock-breaking technology, which has been strongly criticised for its environmental impact, should be used to extract valuable shale gas from the region.
Howell, whose daughter Frances is married to the Chancellor, drew gasps of astonishment in the House of Lords today by saying it was preferable to frack in the North East instead of "beautiful, natural areas".
He asks: "Would you accept that it could be a mistake to think of and discuss fracking in terms of the whole of the United Kingdom in one go?
"I mean there are obviously in beautiful rural areas, worries not just about the drilling and the fracking, which I think are exaggerated, but about the trucks, the delivery and the roads and the disturbance," said Lord Howell, who insisted these were "quite justified worries".
"But there are large uninhabited and desolate areas, certainly up in the North East where there's plenty of room for fracking well away from anyone's residence where it can be conducted without any kind of threat to the rural environment," he added.
Howell's views drew condemnation from rival politicians.
Labour MP Alex Cummingham branded the remarks "ignorant", while Baroness Farrington of Ribbleton said: "I declare an interest as a resident of Lancashire, who is aware of the enormous beauty of the Trough of Bowland.
"Would you, Minister, join with me in condemning the alleged remarks of protesters in the south of England, that all the fracking could be done in the north of England?
"And will you join with me in insisting that the beauty of Lancashire is as important, not more but as important, as the beauties surrounding, for example, Guildford?"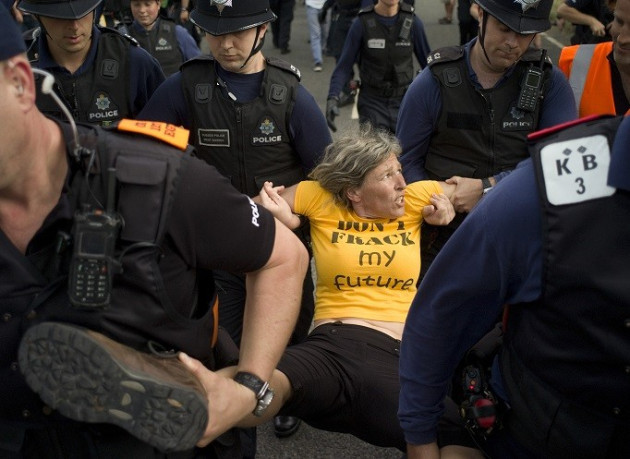 Fracking uses hydraulic pumps to crack rocks deep underground and release natural gas trapped within.
Protesters believe the technology can cause mini-earthquakes, although independent studies have thus far shown nothing more than mild tremors, roughly equivalent to a lorry driving over the ground.
There have already been noisy protests and arrests against fracking in Balcombe, West Sussex.
However support for fracking is strong in government, with the chancellor George Osborne claiming the technique has "huge potential". A package of tax-breaks were this month unveiled for firms which mine shale gas.