Fragment of King Khufu's ancient boat unearthed near Great Pyramid of Giza
This is the second vessel belonging to the Pharaoh discovered at the site.
A 26m plank of wood has been unearthed near the Great Pyramid of Giza in Egypt. It is no ordinary plank, as archaeologists believe it would have formed part of a boat belonging to the ancient ruler King Khufu.
Khufu was the second pharaoh of the Fourth dynasty (he ruled Egypt between 2609 BC - 2584 BC). He is remembered today mostly for having built the Great Pyramid of Giza, one of the Seven Wonders of the World.
Little is known about him beyond this, although experts agree that to complete the construction of a grandiose monument, on such a gigantic scale, he would have had to have significant leadership skills.
Since the 1980s, archaeologists have uncovered around 700 pieces of this boat, buried in the vicinity of the Great Pyramid of Giza.
The wooden plank that the archaeologists have just discovered is the largest one found to date. It was unearthed from a pit nearly three metres underground, and it will be analysed and restored.
The team hopes to find all the pieces that make up the vessel and put it back together to display in the Grand Egyptian Museum which is set to partially open in 2018.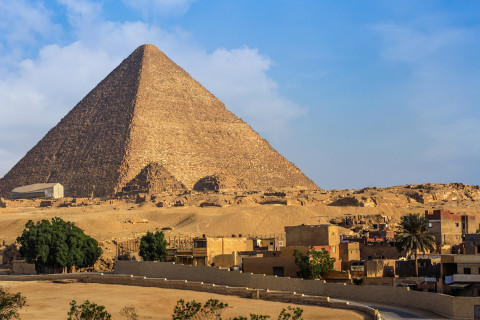 It is not clear what the function of this boat was. While it may have been used by Khufu during his lifetime, it is also possible that it was built to honour the dead king and buried with him, to provide a method of transportation in the afterlife.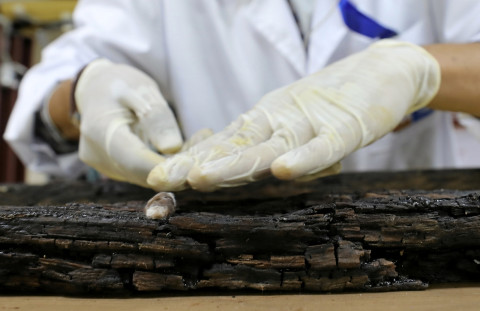 What is certain is that this practice of 'boat burial' was widespread. This boat is the second ancient vessel found at the site believed to have been built for King Khufu. The first Khufu ship discovered there has been on display since 1982 at Giza Solar boat museum, near the Great Pyramid.