France: Is FN's Jean-Marie Le Pen on the presidential campaign trail?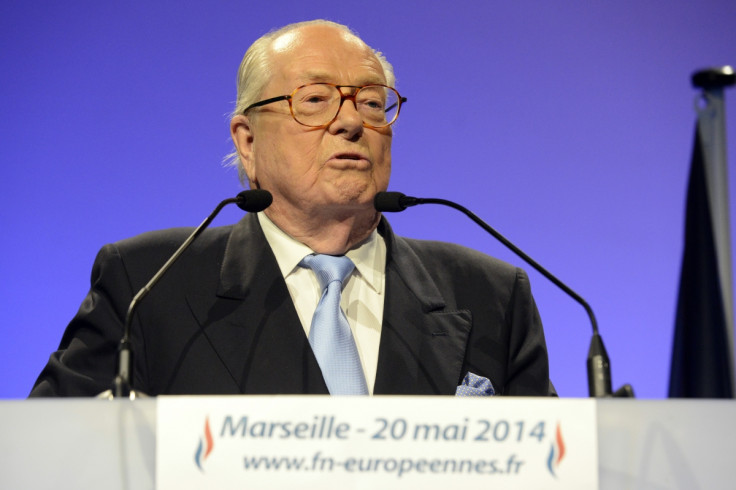 In another twist to the Le Pen family feud, Jean-Marie Le Pen has confirmed his candidacy in upcoming regional elections, despite threats made by his daughter to expel him from France's far-right Front National (FN) party due to a deepening rift over anti-Semitic remarks.
The party was thrown into chaos after its leader, Marine Le Pen, said she would actively oppose her father's candidacy for the Provence-Alpes-Cote d'Azur region in the December elections.
In an interview given to Le Point, Jean-Marie, who founded the FN party in 1972, announced he had no intention of backing down, despite the very clear rejection of his daughter to see him run for elected office.
"My exclusion is unthinkable, unless [there is] an extraordinary congress, which would mean the death of the FN," the 86-year-old firebrand said.
He added he is "definitely not" going through his last hours in the frontists' ranks.
But Marine is expected to announce her final decision regarding his complete expulsion from the party when she appears as a guest on TF1, the national broadcast channel, in the evening of 9 April.
On the presidential campaign trail?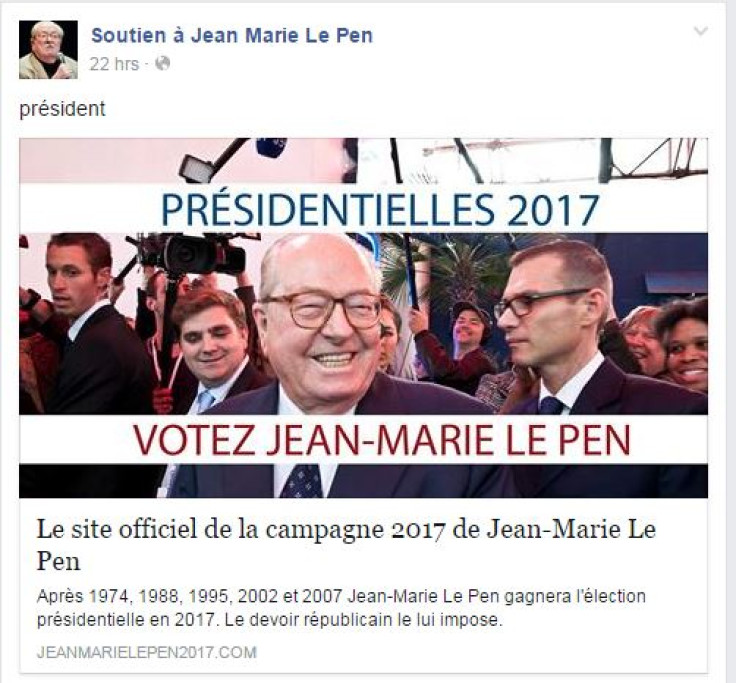 An election campaign website for Jean-Marie Le Pen, which claims to be official, has emerged amid the family feud within the Front National
While Jean-Marie supporters have taken to social media to show their support for the octogenarian, an intriguing electoral website for his candidacy to the 2017 presidential election has appeared on the FN founder's official support page.
The website's homepage reads: "After 1974, 1988, 1995, 2002 and 2007, Jean-Marie Le Pen will win the presidential election in 2017. His Republican duty obliges him to [win].
"As an independent presidential candidate, he will be the voice of the true patriots who refuse concessions. Jean-Marie Le Pen wants to lead a national unity government without party power."
The website, which is in part under construction, is run by "Jean-Marie Le Pen's campaign team", who told IBTimes UK it was to provide more information about the probable campaign.
"The news of the day do not allow us to answer questions for now, please accept our apologies," a spokesperson said.
According to the Who Is - a website directory - the site's domain name was reserved on 26 March, days before the feud began.
Update (9 April, 6:45pm): The FN leader published a statement, which reads: "A fake website says I am running for president in 2017.This is obviously a hoax which aims to divide the National Front."
Nordpresse, a spoof website, has claimed responsibility for the electoral campaign website.
© Copyright IBTimes 2023. All rights reserved.