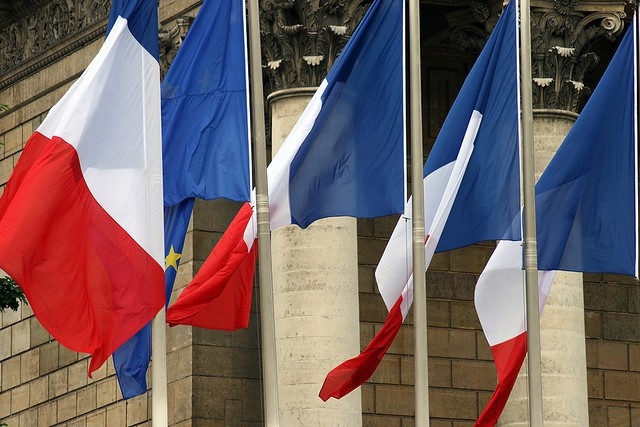 The French economy has fallen into recession for the third time in four years as it recorded a 0.2% contraction in the first quarter of 2013 due to widespread austerity measures in the country.
The country also revised its fourth-quarter economic data, saying the economy contracted 0.2% in the quarter up from the 0.3% contraction reported earlier.
An economy is said to be in technical recession when its gross domestic product (GDP) declines for two consecutive quarters. France, the eurozone's second-largest economy, was in recession at the beginning of 2012 and the country has not grown significantly over the past quarters.
Household consumption expenditure declined 0.1% after remaining stable in the previous quarter, and gross fixed capital formation continued to decline by 0.9% after a 0.8% fall in the fourth quarter. Total domestic expenditure, excluding change in inventories, has declined during the quarter, weighing down GDP growth by 0.1 point.
Exports declined by 0.5%, while imports rose by 0.1%. As a result, trade balance negative affected GDP by 0.2 point.
The latest development indicates that the eurozone is yet to recover the credit crisis in the region. At the same time, it increases pressure on President Francois Hollande to adopt policies to revive growth.
The slow growth in France is considered to have resulted from the ongoing austerity measures in the region that seeks to cut spending and debts. Further, the country has been suffering from record-high unemployment and low business and consumer confidence.
The recession in France is expected to worsen the problems across the region.
The European Commission has earlier warned that France would enter recession in 2013 and the eurozone would shrink by 0.4%. The commission added that it would give France another two years to reduce its deficit to less than 3% of GDP.
Meanwhile, France's neighbour Germany, Europe's largest economy, escaped recession in the first quarter, with GDP rising just 0.1%. However, the growth fell short of economists' projection for a 0.3% growth.
Germany is also struggling from the crisis in the region. Business confidence in the country fell for a second month in April, while investor confidence rose less than economists forecast in May, according to a survey by the ZEW Center for European Economic Research.