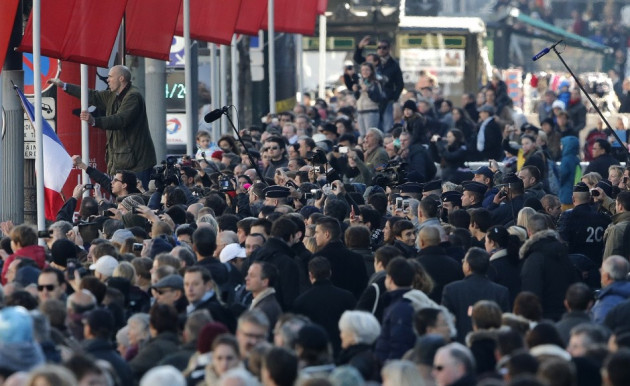 French police have questioned dozens of far-right protesters, including members of Marine le Pen's Front National party, who allegedly booed and hissed President Francois Hollande during a ceremony marking the end of World War I in Paris.
Scuffles broke out between protesters and security forces, as Hollande paraded up the Champs Elysees to the Arc de Triomphe during Remembrance Day celebrations.
Pockets of protesters amid the crowd attending the event chanted "Hollande, we don't want your rule" and "Hollande Resign" as the president laid flowers at the tomb of the Unknown Soldier, located underneath the Arc's vault.
Hollande, whose popularity has plummeted to record lows since elections last year, ignored the jeers but was quick to leave at the end of the ceremony.
Hollande is under fire over weak economic growth, high taxes and rising unemployment, which is now at 11%.
Some of the demonstrators wore red hats, the symbol of a Brittany-based movement called the "Red Caps" which has been fighting a green levy on lorries.
Paris police said 73 people linked to several far right groups were quizzed for staging an unauthorised demonstration and some for acts of violence against security forces.
Interior Minister Manuel Valls condemned the protest saying it was insulting to the memory of whose who fought and died for the country and pointed the finger at FN.
"These incidents are unacceptable and unbearable." said Valls. "There were personalities and candidates of the Front National on the Champs Elysees.
Among those questioned by police was FN's mayoral candidate for Paris Wallerand de Saint-Just, who was held along with about 20 supporters near the Arc de Triomphe.
Le Pen condemned the arbitrary arrests of FN supporters.
She said she disagrees with the protest as it marred Remembrance Day but could understand demonstrators' anger and was sympathetic with the Red Caps' campaign.
"The government has created so much disunity and suffering that everywhere in our country there is an atmosphere of revolt, including unfortunately at times that ought to be of communion," Le Pen said.
Support for FN, which advocates economic protectionism and tighter immigration policies, surged recently, with opinion polls suggesting it is now the largest party in France.