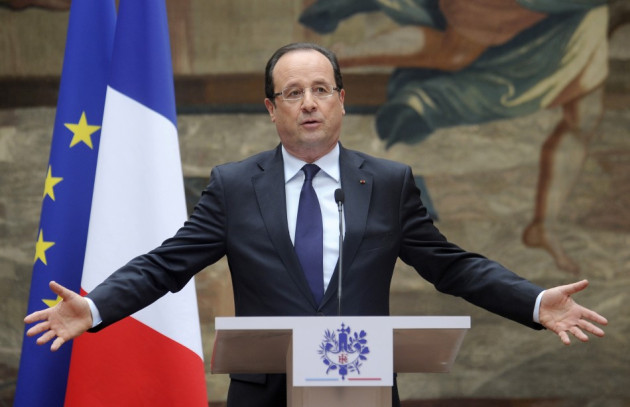 A movie about Francois Hollande's first eight months as French president has divided political commentators with some saying it depicts a weak man hanging on to power while others assert it does justice to his underrated determination.
French director Patrick Rotman and his cameras were given unprecedented access to the president, who they followed almost daily behind the scenes in the Elysee Palace, after Hollande's election victory in May 2012.
The result is a 105-minute fly-on-the-wall documentary titled Le Pouvoir (The Power), released today in cinemas across France.
News website Médiapart's Antoine Perraud penned an article claiming the movie reveals the very heart of Hollande's indecisiveness.
Le Pouvoir "resembles a symbolic Bastille", writes Perraud, adding that Hollande appears "as a prisoner not only of himself and his advisers but also of the presidential palace".
Viewers can see Hollande's strain growing at his role challenges, Perraud said. "His smile progressively disappears, his features become taut and his look gets lost in the ether as the film goes on."
Hollande's lack of authority unravels in the film, critics say.
Le Figaro critic Jean-Christophe Buisson, points the finger at a scene in which the president is seen arriving late for a meeting of his private Cabinet only for his advisers to remain seated.
"Sorry, we forgot to get up," one says cheekily.
Perraud observes that Hollande's submission to his journalist partner Valérie Trierweiler, is shown when she advises him on the choice of his official photograph to be hung in government buildings across France.
"You're smiling too much. You look too American, too much like Kennedy," Trierweiler interrupts as Hollande is discussing the issue with his advisers.
"You sense in this scene that she is prima inter pares, that the President trusts only her word and that his advisers feel that they are nothing compared with her," Perraud wrote.
However, according to Europe 1's Paul Larrouturou, in the movie Hollande is seen as always mastering the situation.
"Friendship can exist but not familiarity," Hollande tells his cabinet in a scene. "Everyone must be in their place and the one occupied by the President must be pre-eminent."
In another episode, the 58-year-old statesman reproaches his aides over the drafting of a speech he was not satisfied with.
"Far from his image of 'the president of kisses' [as the president is dubbed for his affability] Hollande often scolds his aides. He never raises his voices - unlike his predecessor- but addresses all issues with firm voice," Larrouturou wrote.
"Everyone will see what he wants according to his/hers political interpretation," Rotman told 20 Minutes newspaper. "Some think [the movie] is terrific for Hollande as it shows him as a strong president. Others think he flutters in his castle. As always reality is complex and contradictory."