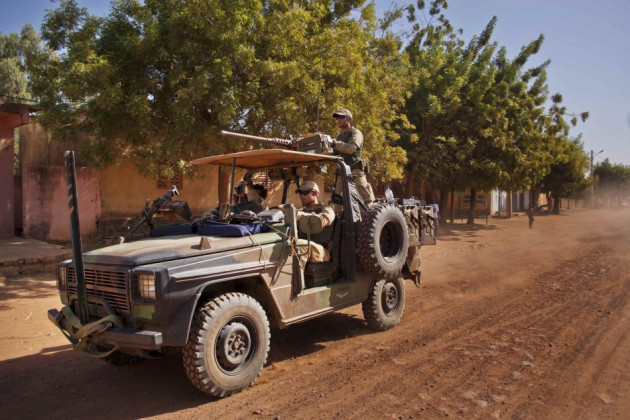 French ground forces are preparing to pound the Islamist rebels in Northern Mali, alongside local troops deployed by ministers in the capital Bamako.
Hundreds of French troops, having been swiftly deployed in the landlocked West African nation, have headed north along with the Malian soldiers to quell the Islamist militants.
The troops are marching towards the central town of Diabaly, which was captured by the al-Qaida-linked Islamists on 14 January.
Although the French air force has bombarded a number of rebel strongholds, this is the first report of a ground offensive by French troops.
France has vowed to maintain a military presence in Mali until stability returns to the country. Paris has conceded that the key town of Konna has not been fully recaptured by the French forces.
"We have one goal. To ensure that when we leave, when we end our intervention, Mali is safe, has legitimate authorities, an electoral process and there are no more terrorists threatening its territory," said French President Francois Hollande during his visit to the United Arab Emirates. He has also requested for financial backing from the UAE in dealing with the ongoing Mali conflict.
Thousands of UN-approved African soldiers will also be deployed in the "coming days" over the recapturing operation of the Northern Mali.
Despite continuous aerial attacks on the Islamist strongholds, the rebels have so far not been dislodged from the region including Konna. Malian army earlier said Konna was fully recaptured from the Islamists.
French Defence Minister Jean-Yves Le Drian has confirmed that French would increase the troop deployment three times to 2,500 soldiers in the coming weeks.
"We are up against a determined adversary that is well-equipped and has not given up, but we have hit them hard with our strikes, including those deep in their territory," said Le Drian who also conceded that Konna was not fully recaptured.
The seizure of Konna by the Islamist rebels only prompted the former colonial power France to intervene in Mali. France, which is determined to wipe out the rebels from the region, fears that the insurgents could easily hide in the vast desert and could strike back anytime.
Locals have also told the AFP news agency that the Islamists have cut the communication links in the area to prevent residents from helping the Malian and French forces.