France: Right-wing Front National party under investigation over illegal campaign financing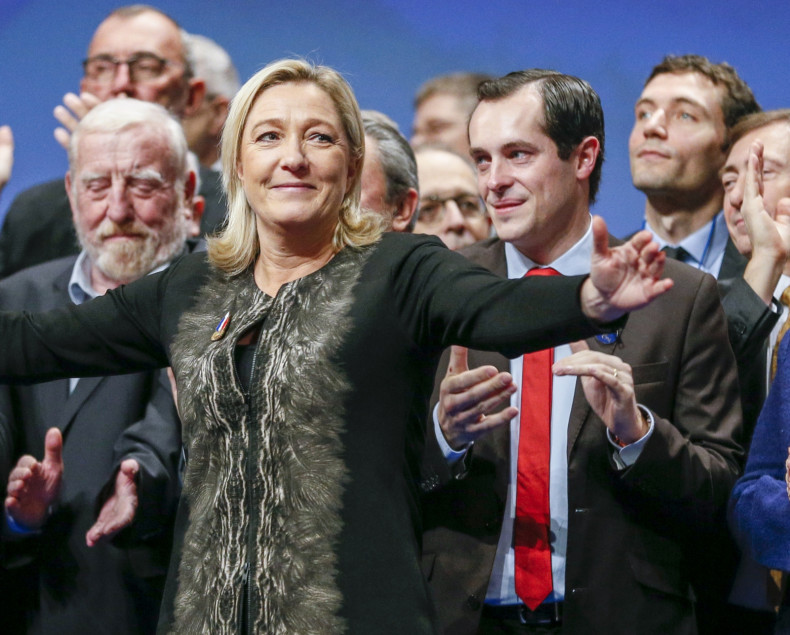 Marine Le Pen, the leader of France's right-wing National Front (FN) party, is facing a potential investigation by the French authorities over "illegal campaign financing".
Juges Renaud Van Ruymbeke and Aude Buresi, who are currently investigating one of Le Pen's officials, have extended their investigation on Wednesday 8 April to include the offence of "illegal campaign financing" by the party during the parliamentary and presidential elections of 2012.
Two of Le Pen's relatives, David Rachline, senator and mayor of Fréjus (Var) and Nicolas Bay, MEP and Secretary General of the FN, are directly affected by the investigations, according to Le Monde.
The judges have already launched an investigation against Frédéric Chatillon - a friend and confidant of Marine Le Pen dating back to their time together at law school - into the alleged "illegal financing" of the FN and Jeanne, Marine Le Pen's micro- party.
On Wednesday 8 April, the judges charged Chatillon, who worked as Le Pen's unofficial public relations adviser and provided PR services to the Front National through his media company, Riwal - for "illegal funding of political parties by a legal person".
Chatillon, and his company Riwal, are accused of having "in 2012 and 2013 provided the political parties, in this case Jeanne Association and the National Front, donations in any form whatsoever, be it property, services or other direct or indirect benefits, at prices below those usually practiced".
Le Pen advisers directly affected
In this new twist, however, the judges have explained that Marine Le Pen may be accused of illegally employing her two advisers, Rachline and Bay, as communications adviser and campaign spokesman respectively, through Riwal's use of "fictitious fixed term employment contract (CDD)" during her campaign for the presidential and legislative campaigns in 2012.
The judges have claimed the wages "paid by the Riwal only during the presidential and legislative campaigns in 2012, amounted to disguised donations to the candidates."
In practical terms, Bay was employed by Riwal for two months on a fixed-term contract, in May and June 2012 , as a "copywriter", during which time he received €6061 in income and €952 in overtime payments.
Over the same period, Rachline was officially hired by Riwal, the communications company, as a "project manager", receiving €4,306 in revenue and €342 for overtime work.
The figures may seen insignificant but the judges are expected to summon Marine Le Pen and her advisers Bay and Rachline.
A widening investigation
According to the judges, Riwal provided many "illegal" services to Marine Le Pen's micro party Jeanne, as well as its employees.
These services could include granting interest-free loans between June 2012 and December 2013, the management of invoices for accounting work done on behalf of Jeanne, as well as "the payment of a bill of €412,000 to the National Front for services that could be realized by printers at very much lower prices, but which, in some cases were never made."
The judges added a number of FN candidates never received those thematic leaflets for which Riwal had invoiced the party.
The judges explained they are also looking into the fact that Riwal may have benefited from the National Front, which is alleged to have acted as a "permanent interest-free credit provider" for an outstanding debt reaching €942,767 at the tail-end of 2013.
Questioned by Le Monde on Friday morning, Marine Le Pen merely stating in a text message that her two former advisers had "worked for two months at Riwal".
While Rachline and Bay did not wish to comment, the FN's deputy party chairman, Louis Aliot, told BFM-TV on Thursday 9 April that there is "no illegal financing of the FN, I certify this to you".
The judges' announcement comes days after Jean-Marie Le Pen confirmed his candidacy in upcoming regional elections, despite threats made by his daughter to expel him from France's far-right Front National (FN) party due to a deepening rift over anti-Semitic remarks.
The party was thrown into chaos after Marine Le Pen said she would actively oppose her father's candidacy for the Provence-Alpes-Cote d'Azur region in the December elections.
More to follow...