A 28-year-old woman has been killed and her boyfriend seriously injured after a bungee jump they were taking together in northern France went tragically wrong.
The young couple were at an event in Audincthun, near St Omer, in Pas de Calais when they decided to jump from the popular 65m crane.
"The couple went to the top of crane, 65 metres high, to do a bungee jump," a source close to the investigation told Le Parisiene newspaper (quoted in the Daily Mail).
"During the jump, around 15 metres from the ground, there was a dysfunction with the fastening system and both fell heavily to the ground."
The woman was declared dead. Her boyfriend, 32, is being treated with what are described as very serious injuries at University College hospital in Lille. Neither have yet been named.
"Clearly there was a problem with the fixing of the couple to the rope," French prosecutor Sébastien Piève told La Parisiene. "We will see if it was caused by human error, or a problem with the equipment, or a combination of the two."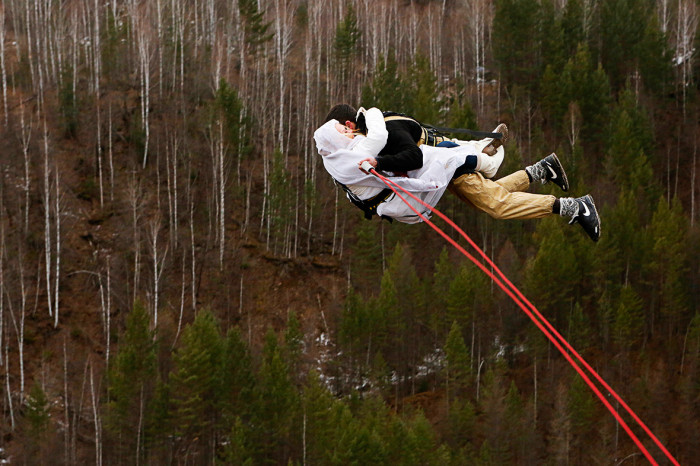 The managers of the bungee jump, which has been in operation for two years, have been arrested on suspicion of manslaughter and the popular tourist attraction shut down while an investigation into the cause of the tragedy takes place. The rope itself is not believed to have snapped.
Police said the operators are "under investigation for manslaughter following the death of a client."
Last week 12-year-old girl acrobat Lilou Gaude died following a fall from a Bordeaux lighthouse while filming a TV show.
Earlier this month Kuwaiti tourist Abdullah Adel Kadhmbadman died when straps secured to his ankle slipped off when he was bungee jumping in Thailand. In 2002 a couple of young Italians died in a botched bungee jump in Valnerina Valley, Umbria.